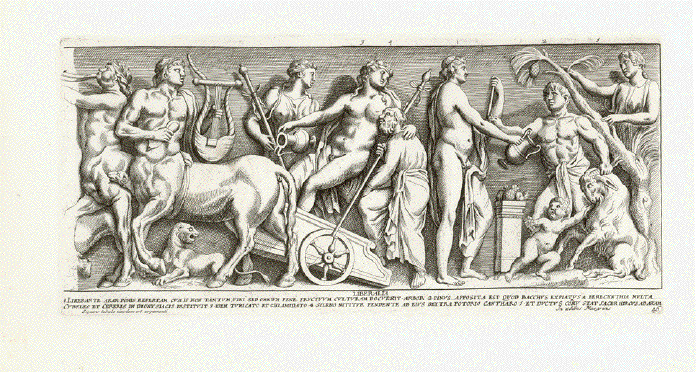 "Liberalia".
Copper etching by Pietro Santi Bartoli (1635-1700)
Published in:
Rom antiquities. - "Admiranda romanarum antiquitatum ac veteris sculpturae vestigia anaglyphico opere elaborata ex marmoreis exemplaribus quae Romae adhuc extant in Capitolio aedibus hortisque virorum principum ad antiquam elegantiam /. a Petro Sancti Bartolo delineata incisa in quibus plurima ac praeclarissima ad romanam historiam ac veteres mores dignoscendos ob oculos ponuntur notis Io. Petri Bellorii illustrata ... restituit auxit Dominicus de Rubeis chalcographus.."
Publisher: Domenico de Rubeis
Published in Rome, 1693
Very good impression. Margin edges show age and use.
Liberalia was a feast day in antique Rome, celebrated on March 17. The feast was in honor of fertility gods. Boys were clad for the first time in man's toga (toga virilis). "Liba" = honey cake was a typical sacrificial offering.
Text in Latin: 1. LIBER ANTE ARAM POMIS REFERTAM CUM IS NON TANTUM VINI SED OMNIUM PENE FRUCTUUM CULTURAM DOCUERIT ARBOR 2. PINUS APPOSITA EST QUOD BACCHUS EXPIATUS A BERECYNTHIA MULTA CYBELES ET CERERIS IN DIONYSIACIS INSTITUIT 3. IDEM TUNICATO ET CLAMIDATO 4. SILENO NITITUR PENDENTE AB EIUS DEXTRA POTORIO CANTHARO 5. ET DUCTUS CORNU STAT SACER HIRCUS AD ARAM
To the left: Two centaurs.
Image: 16 x 36,5 cm (ca. 6.3 x 14.4")
Sheet: 33 x 48 cm (ca. 11.8 x 18.9")
$ 260.00
Order Nr. CENTAUR243169