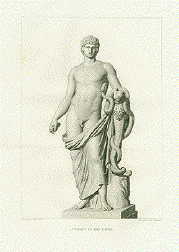 Antinous en bon Genie
Antinous was the lover of Roman Emperor Hadrian. The well proportiend, good looking youth drowned in the river Nile, only 19 years of age. His death still puzzles: Was it an accident, suicide, murder? Grieving Hadrian proclaimed Antinous a God. Busts of the beautiful youth were erected, coins were struck, gems were with his image. Antinous was also depicted as Roman Bacchus, as god of fertility with grapes. Here Antinous is holding a cornucopia with grapes.
Copper etching by Henri-Guillaume Chatillon (1780 - 1856) after a drawing
by Francois Louis Dejuinne(1786 - 1844). From "Musee Francais. Recueil des plus beaux Tableaux, Statues et Bas-Reliefs qui existaient au Louvre avant 1815" Artwork in the Louvre in Paris before the year 1815). Paris, 1829.
Very beautifully conserved, clean etching with very wide margins. Miniscule traces of age and use. Watermark.
Image: 36.5 x 25.7 cm (14.4 x 10.1")
Full Page: 60 x 43.5 cm (23.6 x 17.1")
$ 220.00
Order Nr. CLASSICALNUDE7842