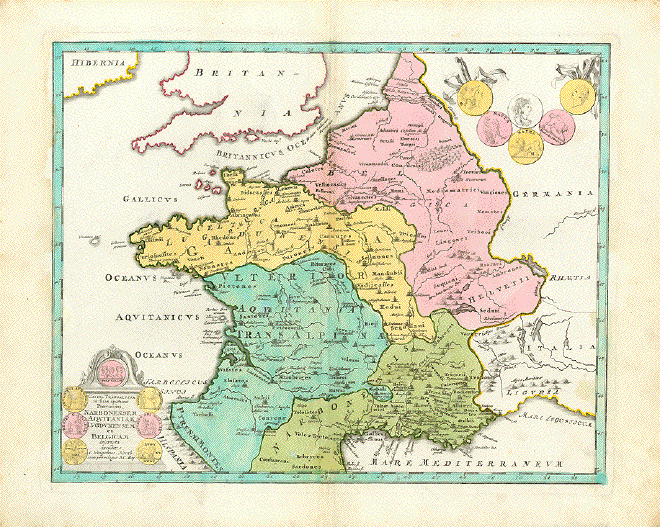 "Gallia Transalpina in suas quatuor Provincias Narbonensem, Aquitaniam, Lugdunensem, et Belgicam descripta…"
This historic map shows mainly France. But it includes Roman conquests of Belgium (then a large area of land under the Latin name of "Belgica", the Netherlands, Germany west of the River Rhine, and Switzerland. Antique coins and medals lower left around title cartouche and upper right.
Type of print. Copper etching
Color: Original hand coloring
Author: Samuel Faber (1657-1716)
Publisher: Christoph Weigel (1654-1725)
Published: Nuremberg, 1720
Edition: Weigel reissued "Atlas Scholastichodoeporicus…" which Faber originally published in 1716.
Condition: Beautifully bright original hand coloring. Wide margins spotty and a bit wrinkly. Margins have traces of age and use. In general: Good.
31 x 38,5 cm (ca. 12.2 x 15.1")
$ 140.00
Order Nr. FRANCEMAP239208