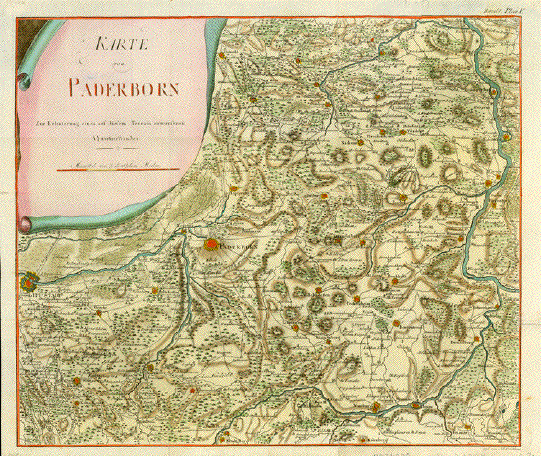 "Karte von Paderborn Zur Erleuterung eines auf diesem Terrain entworjenen." Copper engraving by J.F.W. Schleuen, ca 1680. Original hand coloring. Seldom.
Almost in the center of the map is Paderborn. On the left side under the cartouche is Lippstadt. In the upper right is part of the Weser river with the towns of Kirchhofen, Hastenbeck and Tuender. In the lower right and bottom is the Diemel River with Stadtberg at the bottom of the map.
Map has various folds to fit book size. A few spots in margins. Small thin spot in cartouche. Decorative map.
39.4 x 46.8 cm ( 15.5 x 18.4 ")
$ 1400.00
Order Nr. DEUTSCHLAND236970
Handkolorierte Kupferstichkarte von J.F.W. Schleuen. Ca. 1775
Seltene Karte des Weserlaufs von Rhoden / Wrexen (hier bezeichnet als Stadt Berg und Stadt Berge) entlang der Diemel Warburg, Libenau, Drendelburg, Helmershausen bis Carlshafen. Die Karte folgt dann dem Weserlauf bis zum Einfluus der Emmer bei Kirchhofen. Äusserster westlicher Punkt ist Lippstadt. Im Zentrum der Karte befindet sich Paderborn mit seiner sehr detailliert dargestellten nördlichen, östlichen und südlichen Umgebung. So finden sich auf dieser Karte kleine Orte wie geseke, Saltzkotten, Rhuden, Büren, Wimmenberg, Lichtenau, Kleinenberg, Borgentreich, Peckelsheim, Willebadessen, Borckholz, Gehrden, Dringenberg, Beverungen, Lippspringe, Driburg, Brackel, Nieheim, Breidenborn, Steinheim, Harn, Detmold, Vörden, Schwadenberg, Lugda und zwischen all diesen sogar noch jedes Dörflein. Auch der Verlauf des Alm-Flusses von seiner Quelle bis Lippstadt ist detailliert gezeichnet. Wälder, Berge, Bäche sind eingezeichnet. Eine sehr hübsche Karte, die wohl einem Buch enstammt. Sie sit mehrfach vertikal und horizontal gefaltet gewesen. Die Büge allerdings von vorne kaum erkennbar.
Die Karte zeigt minimale Spuren von Alter und Gebrauch, ist allerdings sehr ansehnlich und gut erhalten. Original Falten.