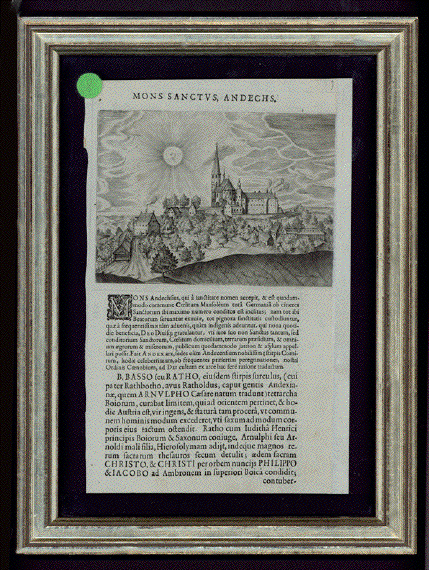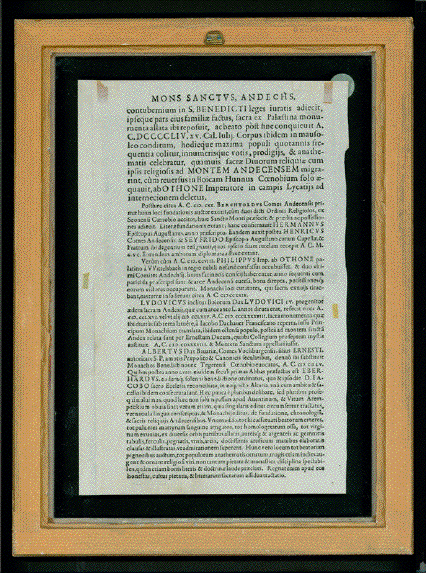 "Mons Sanctus, Andechs" (The holy mountain Andechs). Framed
Very finely done copper etching by Karl Stengel (1581-1663)
Published in "Monasteriologia in qua insignium aliquot monasteriorum familiar S. Benedicti in Germasnia" (Views of Benedictan monasteries in Germany)
PUBLISHED IN AUGSBURG, GERMANY 1619
Stengel was abbot in the Benedictine monastery in Anhauen an der Brenz
View from south-west. On left side a bit of southern end of Ammersee visible.
Below image and on reverse side the history of Andechs in Latin language.
Condition. Only minimal traces of age and use. Right margin has been added.
Upper left and right corners show remnants of fastening. Obviously this engraving
had once been matted or framed. Frame has front and rear glass to show the entire text.
Green sticker is a catalog number that will be removed.
Image: 12 x 17 cm (ca. 4.7 x 6.7")
Full page: 29 x 17,5 cm (ca. 11.4 x 6.9")
Overall with frame: 38 x 28 cm (ca. 15 x 11")
$480.00 including frame
Order Nr. ANDECHS 239051