Beautiful Aquatints of Egypt
Luigi Mayer, an Italian painter, created, among other travel descriptions, a wonderful series of drawings of pre-Napoleonic Egypt, commissioned by the British Ambassador to Constantinople (Istanbul), Robert Ainslie, at the turn to the 19th century. Mayer's drawings were supremely implemented as aquatint engravings by Thomas Milton and very handsomely hand colored. The various plates were dated between 1801 and 1803. They were published by R. Bowyer in London in the year 1804 as "Views in Egypt, Palestine and other parts of the Ottoman Empire". With historic observations, and incidental illustrations of the manners and customs of the natives of that country .
Our series of aquatints are in very nice collectable conditon in superb hand coloring. The all have the desired general age toning, Whatman 1801 watermarks, English and French titles. Some have a tiny bit of wrinkling i the marges and a few minor traces of age and use, including some small repaired tears in margins far away from image. But in general the condition is very nice.
Horizontal image size is approximately 22 x 31 cm (8.7 x 12.2")
Vertical image size 31 x 22 cm (12.2 x 8.7")
Page size 31 x 42.7 cm (12.2 x 16.8")
Any larger deviations and in size and condition will be individually mentioned.
Prices are noted with each print.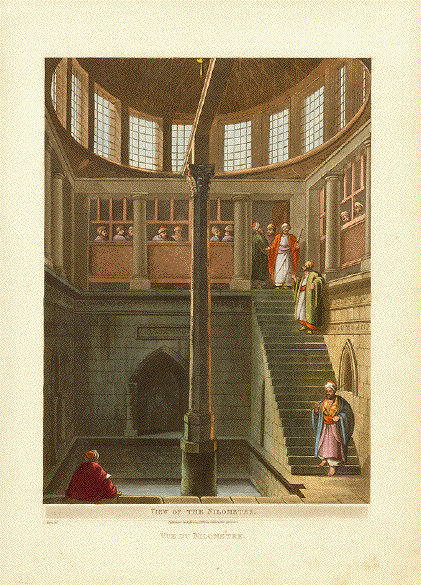 "View of the Nilometer"
"Vue du Nilometre"
$ 280.00
Order Nr. EGYPT242405
---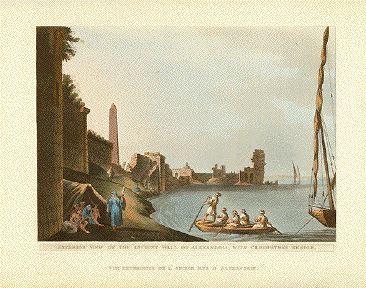 Exterior View of the Ancient Wall of Alexandria, with Cleopatras Needle
Vue Exterieuse De L´ Ancien Mur D´Alexandre
Order Nr. EGYPT235770 SOLD
---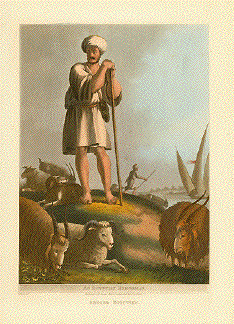 An Egyptian Herdsman
Berger Egyptian
$ 140.00
Order Nr. EGYPT235773
---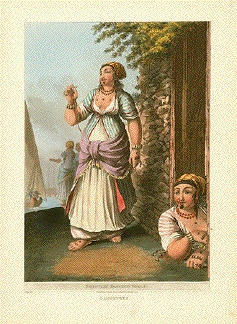 Egyptian Dancing Girls
Danseures
Order Nr. Egypt235772 SOLD
---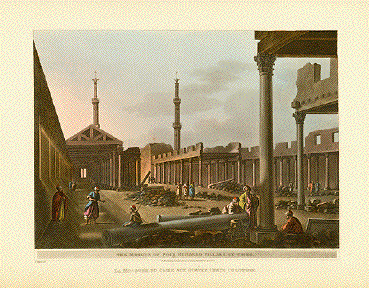 The Mosque of Four Hundred Pillars At Cairo
La Mosquee Du Caire Aux Quatre Cents Colonnes
$ 220.00
Order Nr. EGYPT235771
---
Port & Harbour of Aboukir, Ancient Canopus
Ville et Port D´Aboukir
( Abu Qir)
$ 280.00
Order Nr. EGYPT235715
---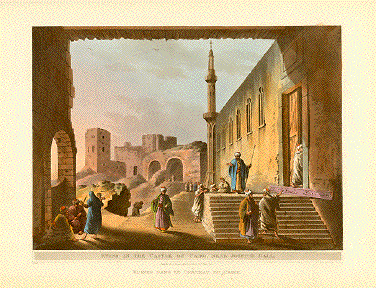 Ruins in the Castle of Cairo, Near Joseph´s Hall
Ruines Dans Le chateau du Caire
$ 180.00
Order Nr. EGYPT235716
---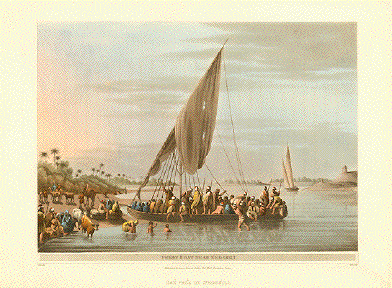 Ferry Boat Near Nedssili
Bae Pres De Nedssili
$ 180.00
Order Nr. EGYPT 235717
---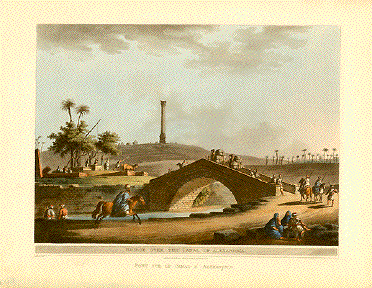 Bridge Over the Canal of Alexandria
Pont Sur Le Canal D´Alexandrie
$ 180.00
Order Nr. EGYPT235718
---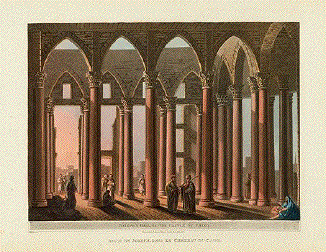 "Joseph's Hall in the Castle of Cairo" Palaqce of en-Nasir
Order Nr. EGYPT235006SOLD
************
---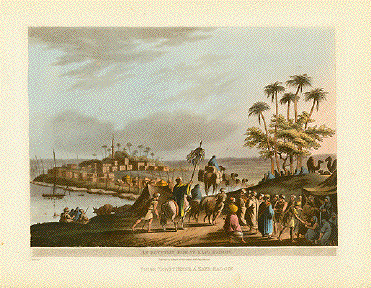 An Egyptian Fair At Kafr Radoin
Foire Egyptienne A Kafr Radoin
$ 180.00
Order nr. EGYPT235727
---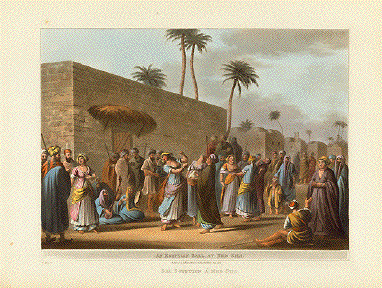 An Egyptian Ball, At Ned Sili
Bal Egyptien A Ned Sili
Order Nr. EGYPT235728 SOLD
---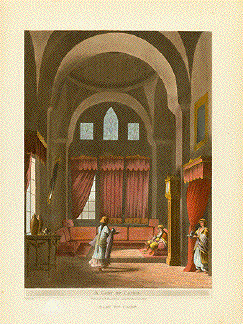 A Lady of Cairo
Dame Du Caire
$ 140.00
Order Nr. EGYPT235729
---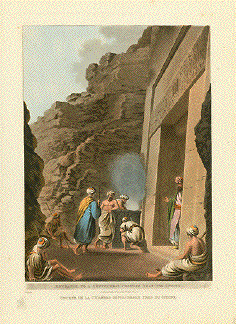 Entrance to the Sepulchral Chamber Near the Sphinx.
Entree De La Chambre Sepulchrale Pres Du Sphinx
Order Nr. EGYPT235834 SOLD
---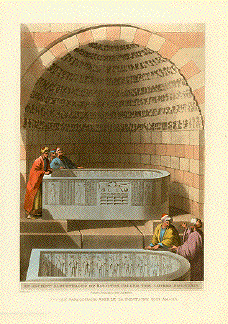 An Ancient Sarcophagus of Basaltes, Called the Lovers Fountain.
Ancien Sacrophage Appele La fontaine Des Amans
Order Nr. EGYPT235835 SOLD
---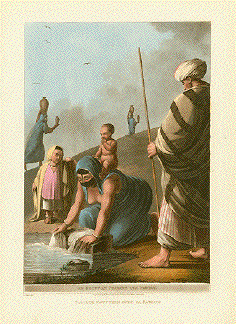 An Egyptian Peasant and Family
Payseur Egyptien Avec Sa Familie
$ 140.00
Order Nr. EGYPT235826
---
"The Gate of Rosetta in Alexandra"
Rosetta near Alexandria, founded by the Kalifs in the 9th century was Egypt's Gate to the Mediterranean Sea until Alexandria took over in importance in the 19th century. The Rosetta granite stone is world -amous.
Margins have been trimmed to sheet size of 29 x 37.3 cm (11.4 x 14.7")
$ 180.00
Nr. EGYPT235010
************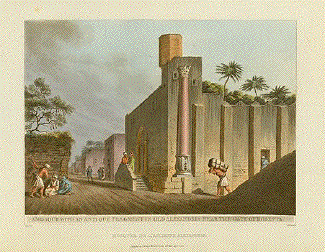 "A Mosque with an Antique Fragment in Old Alexandria near the Gate of Rosetta"
$ 180.00
Order Nr. EGYPT235009
************
The Town of Fous, on the Banks of the Nile.
Ville De Foua
$ 220.00
Order Nr. EGYPT235742
---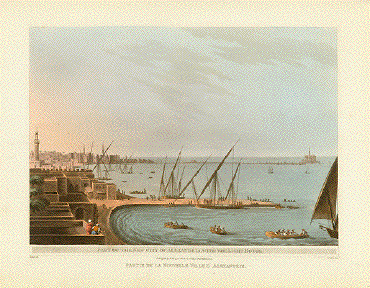 Part of the New City of Alexandria, With the Light House
Partie De La Nouvelle Ville D´Alexandrie
$ 220.00
Order Nr. EGYPT235744
---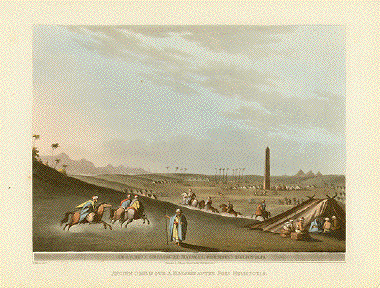 An Ancient Obelisk At Matarea, Formerly Heliopolis,
Ancien Obelisque a Mataree Autre Fois Heliopolis
Order Nr. EGYPT235743 SOLD
---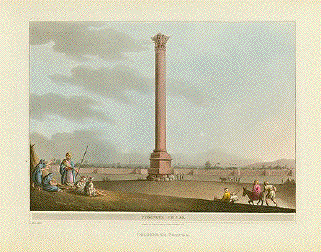 "Pompey's Pillar". In Alexandria. (Arab name: Amoud el-Sawari - Column of the horsemen).
Actually a monument built at the end of the fourth century to the honor of Diocleatian. Later travellers believed the capital on top of the 25 meters high pillar contained Pompay's head. Pompey had fled to Egypt after his defeat by Deasar in the year 48 BC.
$ 180.00
Order nr. EGYPT235008
************