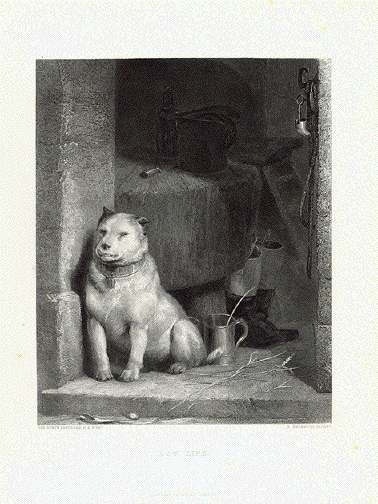 "Low Life"
Steel engraving by H. Beckwith after a painting by Sir Edwin Landseer.
Included is an extra page of text ( in English )
Excerpt from the text:
"How many qualities are promised by the expression of this thorough mongrel! Has he not
impudent self-assurance, and a "cat may look at a king" kind of look about him? The half-closed
eye is indicative of sly mischief lurking in his disposition, yet there is a formidable earnestness about
that deep mouth and those powerful jaws........... From the butcher´s block and knife we may infer
the occupation of the dog´s owner, and account for the animal´s comfortable condition........"
" Low Life " was painted in 1829 and was engraved ca 1850.
Print is in good condition. Strong clean image. Very minimal spotting in margins.
Image size: 23.5 x 18.8 cm ( 9.2 x 7.4 " )
Order Nr. DOG236998 SOLD