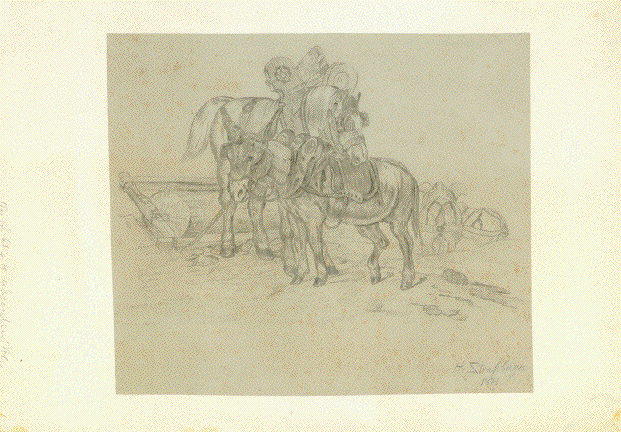 Bleistiftzeichnung auf Papier, ein Arbeitspferd und einen Esel darstellend.
Das Pferd, ein landwirtschaftlich eingesetztes Zugtier, trägt ein Kummet (Zuggeschirr) aus Holz.
Der gesattelte Esel trägt ebenfalls ein Kummet. Beide Tiere machen gerade eine Arbeitspause
Signiert unten rechts: H. Straßberger, datiert unter der Signatur: 1871
Das Ackergerät trägt zusätzlich folgendes Monogramm: H.S. 1871
Künstler: Bruno Heinrich Straßberger (1832-1910)
Der Künstler war Sohn des Malers Ernst Wilhelm Straßberger (1796-1866)
und Enkel des Malers Christian Gotthelf Straßberger (1770-1841)
Papier mit grauem Grundton
Blatt ist auf grösserem Papierbogen in den vier Ecken montiert.
Gelegentliche Stockflecken fallen nicht übermässig auf. Vernachlässigbare Altersspuren.
*****
Pencil drawing of a work horse and a donkey taking a pause from work.
In the lower right corner is the signature H. Strassburger with te date 1871
On the left side by the wheel is the initial HS. 1871.
Artist: Bruno Heinrich Straßberger (1832-1910)
The artist was the son of the painter Ernst Wilhelm Straßberger (1796-1866)
and grandson of the painter Christian Gotthelf Straßberger (1770-1841)
This drawing is on heavy gray paper and mounted on larger paper.
A few light spots and signs of age and use.
Blattgrösse/drawing page 23,5 x 27,3 cm (9.8 x 10.7")
$210.00 Discount - 40% = $126.00
Order Nr. HORSE254544