Beautiful Aquatints of Egypt
Luigi Mayer, an Italian painter, created, among other travel descriptions, a wonderful series of drawings of pre-Napoleonic Egypt, commissioned by the British Ambassador to Constantinople (Istanbul), Robert Ainslie, at the turn to the 19th century. Mayer's drawings were supremely implemented as aquatint engravings by Thomas Milton and very handsomely hand colored. The various plates were dated between 1801 and 1803. They were published by R. Bowyer in London in the year 1804 as "Views in Egypt, Palestine and other parts of the Ottoman Empire". With historic observations, and incidental illustrations of the manners and customs of the natives of that country .
Our series of aquatints are in very nice collectable conditon in superb hand coloring. The all have the desired general age toning, Whatman 1801 watermarks, English and French titles. Some have a tiny bit of wrinkling i the marges and a few minor traces of age and use, including some small repaired tears in margins far away from image. But in general the condition is very nice.
Horizontal image size is approximately 22 x 31 cm (8.7 x 12.2")
Vertical image size 31 x 22 cm (12.2 x 8.7")
Page size 31 x 42.7 cm (12.2 x 16.8")
Any larger deviations and in size and condition will be individually mentioned.
Prices are noted with each print.

The Gate of Rosetta in Alexandra
Rosetta near Alexandria, founded by the Kalifs in the 9th century was Egypt's Gate to the Mediterranean Sea until Alexandria took over in importance in the 19th century. The Rosetta granite stone is world -amous.
Margins have been trimmed to sheet size of 29 x 37.3 cm (11.4 x 14.7")
$ 180.00
Nr. EGYPT235010
************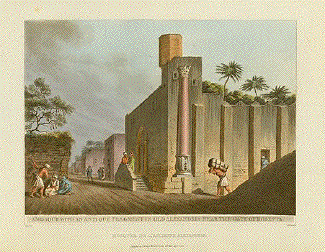 "A Mosque with an Antique Fragment in Old Alexandria near the Gate of Rosetta"
$ 220.00
Order Nr. EGYPT235009
************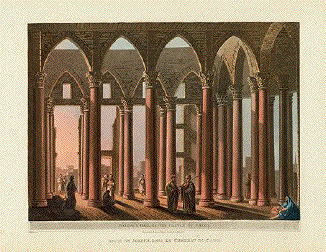 "Joseph's Hall in the Castle of Cairo" Palaqce of en-Nasir
$ 240.00
Order Nr. EGYPT235006
************