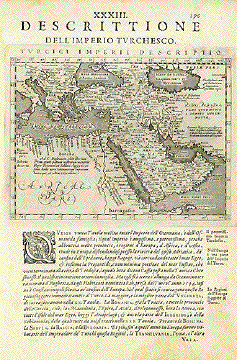 "Descrittione Dell'Imperio Turchesco" Ottoman Empire.
Copper etching published in "Geografia cioe Descrittione Universale della Terra"
Gio. Battista & Giorgio Galignani Fratelli. Venice, 1598
First edition in Italian prepared by Giovanni Antonio Magini (1555-1617)
Map shows the Ottoman Empire at the end of the 16th century: Turkey, Greece, Parts of the Balkan (Albania, Bosnia, Serbia, Romania), Cyprus, Armenia, Georgia, Syria, Lebanon, Palestine (Jordania,Israel), Felix Arabia, Irak, parts of Iran, Egypt and Libya.
General age toning. Some minoir traces of age and use. Good condition. Verso: Related text.
Sheet: 28.5 x 19 cm (11.2 x 7.5")
Map: 12.6 x 17.2 cm (5 x 6.8")
Order Nr.MIDDLEEAST235649SOLD