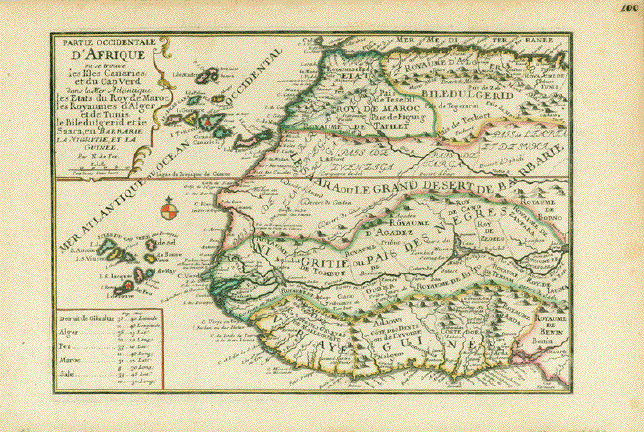 "Partie Occidentale d'Afrique ou se trouvent les Isles des Canaries et du Cap Verd dans la Mer
Atlantique des Etats du Roy de Maroc, les Royaumes d'Alger et de Tunis le Biledulgerit et
le Saara, en Barbarie, La Nigritie, et la Guinee"
North-west Africa with the archpelagos of the Canary Islands and of the Cape Verde Islands.
The Tropic of Cancer running right through this map.
Copper etching with original borderline hand coloring by Nicolas de Fer (1646-1720)
Published in "Petit et nouveau atlas". Paris,
Very nice colors. Minimal traces of age and use. Good condition.
Old and-written page number in upper rght corner.
Map image: 22 x 32 cm (ca. 8.7 x 12.6")
$190.00
Order Nr. AFRICAMAP249982