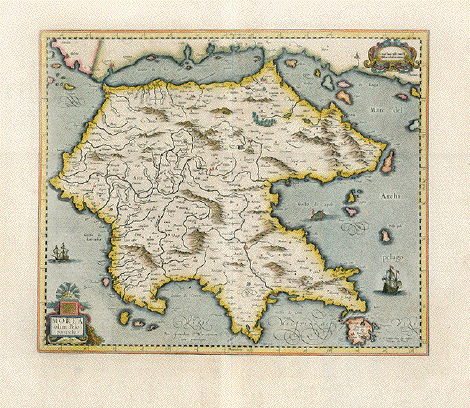 "Morea olim Peloponnesus"
Type of engraving: Hand-colored copper etching
Author: Gerardus Mercator (1512-1594)
Publisher: Gerard Mercator and Jodocus Hondius (1563-1612)
Published in: "Gerardi Mercatoris et I. Hondii - Janssonii Atlas or a Geographicke Description
of the Regions, Countries and Kingdomes of the World ...."
Amsterdam, 1636-1641
Verso: Text in the English language
A very detailed and attractive map of the Peloponnes, created by the famous cartographer Gerard Mercator, whose maps were, after his death, published by the equally importatnt cartographer and publisher Jodocus Hondius. After his death Johannes Janssonius continued publishing the maps in what is referred to as Mercator-Hondius-Janssonies atlas. This atlas was continuously enlarged. This particular map was published in 1636. It is the second state of this map, embellished with an additional mileage cartouche and sailships and a sea monster.
Mercator noted in the lower right corner of this map and marked on the island of Cerigo: Il templo dove fu rapta Helena da Paris!
Condition: Light general age toning. Very attractive hand-coloring. Very wide margins are lightly spotty. In general: good condition.
33,3 x 41,1 cm (ca. 13.1 x 16.2")
$ 650.00
Order Nr. GREECEMAP237472