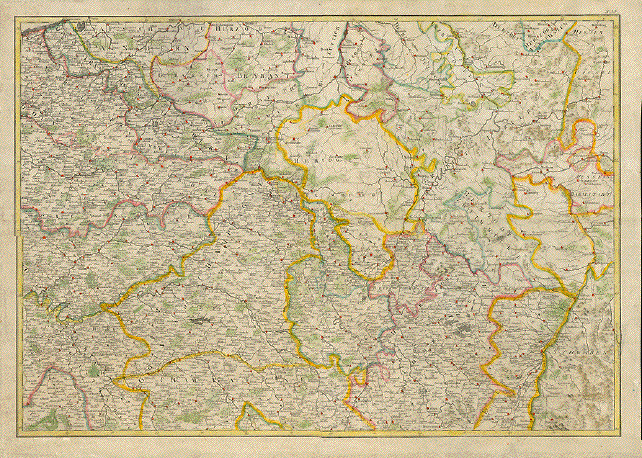 LUXEMBOURG
Duchy of Luxembourg and surrounding area.
Anonymous copper etching with original outline hand coloring.
Most probably German origin. Ca. 1750-80
Map has no indication of authorship. No cartouche, no credit for the engraver. No given date.
Only help for identification is the number 30 in the uppr right corner.
Here are the geographical points, clockwise from upper left: Dunkerque (France), Hasselt (Belgium), Marburg (Hesse), Darmstadt (Hesse), Freiburg (Baden), Nogent-le-Roi (France, Dept. Eure et Loir), Pithiviers (Departement Loiret), Beauvais (France, Dept. Oise)
In the center of map we have the Duchy of Luxembourg (Luxenburg). Map shows geography in great detail.
River runs: Rhine from Breisach to Cologne
Moselle / Mosel: the entire run from the Vosges mountains to Coblence / Koblenz
Light age toning. Margins a bit dirty. Reverse side is blank and a bit dirty with some spots. Strong paper
51,3 x 74,5 cm (ca. 20 x 29")
$ 280.00
Order Nr. LUXEMBOURG238148