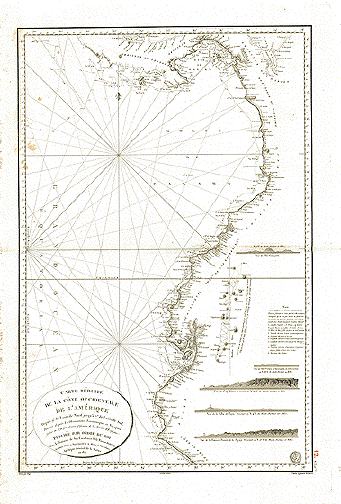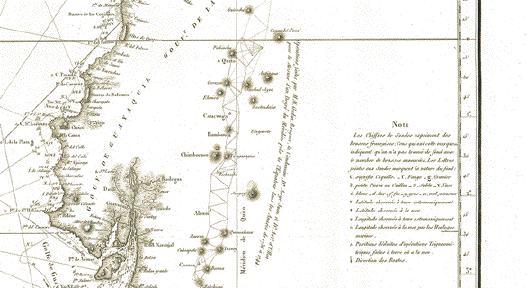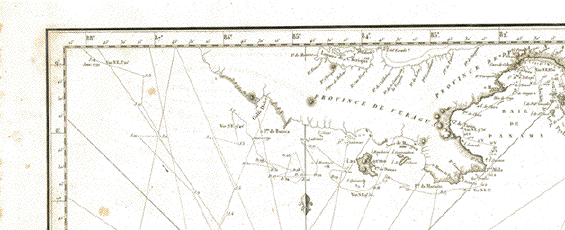 "Carte Reduite de la cote occidentale de l'Amerique Depuis 9° de Latitude Nord jusqu'a 7° Latitude Sud Dressee d'apres les Observations Astronomiques et Nautiquesfaites en 1791 par divers Officiers de la Marine d'Espagne…"
Copper etching by Vicq in the name of the French King and the Department of the French Navy. It is dated 1821.
On the right of map: Profile views of Island of Gorgona, island of Santa Clara (also named Amortajado), Cap Blanco, Silla de Payta and Fausse Pointe de la Aguja.
Pacific coastline from Golfo Dulce, Costa Rica, Panama, Columbia, Equador, Northern Peru
Also 19 named volcanos in this region. From south: Pillatehiqui, Borma, Cahoapata, Yazuay, Bueran, Quinoaloma, Sangay, Tonguragua, Chimboraso, Hambato, Onetendana, Elenis, Corazon, Sinchul-Agua, Antisana, Pichincha, Cayambe-Urca, Guicocha. (One volcano unnamed near Chimboraso).
The mapping of this coastline was executed by geographic scientists on two corvettes of the Spanish Armada during the year 1791: "Descubierta" and "Atrevida". This expedition was called "Malaspina Expedition" and took place under the command of Captains Alessandro Malaspina and Jose de Bustamente y Guerra during the years 1789-1794.
The expedition began in Cadiz and went to Montevideo, Falkland Islands, Santiago de Chile, Lima, Acapulco, Nootka, Alaska and then continued across the Pacific to Asia, Australia, New Zealand and back to Cadiz.
Minor traces of age and use along margin edges. Otherwise very good. Vertical centerfold.
85 x 56 cm (ca. 33.5 x 22")
$ 1100.00
Order Nr.SOUTHAMERICAMAP248441