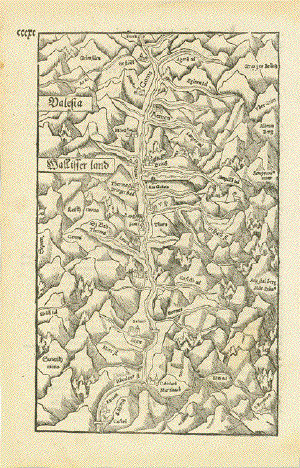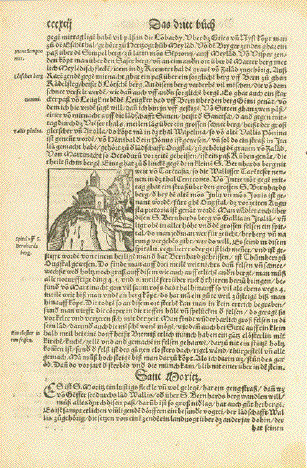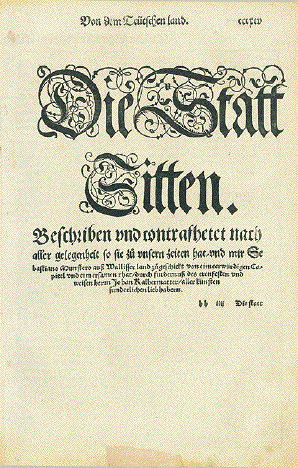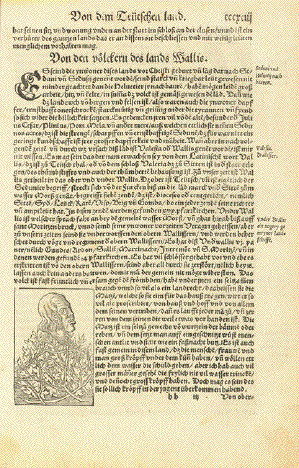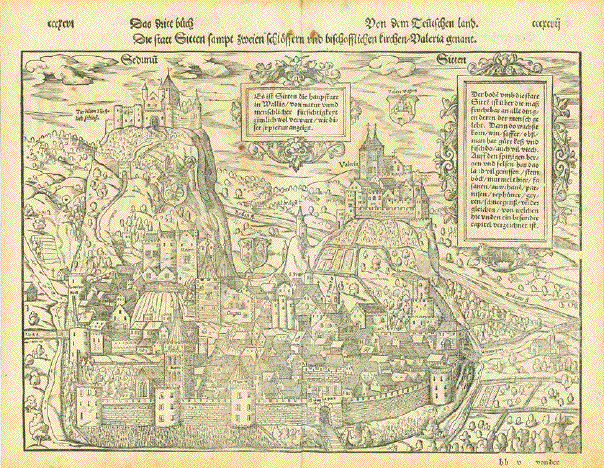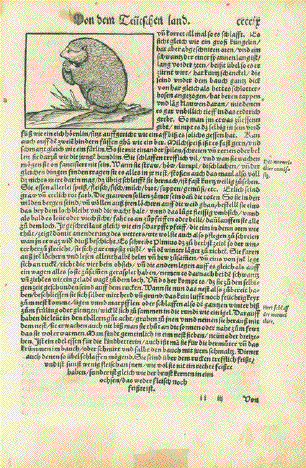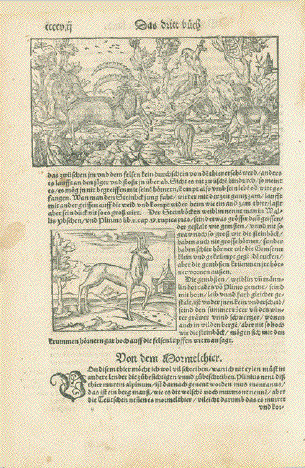 Wallis. - "Valesia - Wallisser land" Valais
Woodcut. Published in "Cosmographia" by Sebastian Muenster (1488-1552)
German edition.
Basel, 1553
Page has light natural age toning. Very good condition.
Like the spine of a person the River Rhone (here: Rhodan) is running through this vertical map of the Canton of Wallis from its source to just before it emties into Lake Geneva (Genfer See).
Reverse side: Article about the people of Wallis (the Walliser). This article is continued and completed
on the next page. This article is followed by an article about cities, towns and villages in the
Wallis. A little woodcut of St. Bernard mountaintop chapel.
Articles which follow: Not all pages are shown. Those shown have woodcuts.
"Sant Moritz" (Saint Maurice VS)
"Von den Völkern des lands Wallis" (with a small woodcut of the legendary "big heads) of men and women
"Von oberkeit und Regiment des lands Wallis"
Followed by a beautiful double page view of the city of Sitten (Sion)
There is hardly any drawback of this beautiful woodcut worth mentioning. Except that there is an even pleasant age patina and very, very minor other traces of age.
Very good condition!
Image: 26,3 x 36,5 cm (ca. 10.4 x 14.3")
Followed on reverse side by article:
"Von der statt Sitten und anderen flecken des lands Wallis" (Sion)
Articles of the following pages:
"Sanct Moritz vor zeiten Agaunum"
"Martinacht oder Octodurum" (Martini)
"Gradetsch Alte Sider" (granges VS)
"Sider Leuck" (Bad Leuck)
"Raren Visp" (Raron Visp)
"Brig - Naters - Hieril" (Brigue)
"was bei den gletschern verstanden"
"Die Fruchtbarkeit des lands Wallis"
"Von wilden und seltzamen thieren unnd allerlei wildpraet so man in Wallis….findet"
"Von den Steinboecken und gemszen"
Followed by a woodcut with Alpine animals
8,3 x 16,3 cm (ca. 3.3 x 6.4")
and another woodcut showing a chamois
Next article:
"Von den Mormelthier" (About marmots or groundhogs - with a woodcut of one such animal)
"Von Steinhuenern und Fasanen" (With a small woodcut of these birds)
This is the coherent sequence of pages from "Cosmographia" by Sebastian Muenster, Basel, 1553
Not all pages are shown. Those shown have woodcuts.
Consisting of map Wallis / Valais. Sitten / Sion double page general view several
small woodcuts as described and text articles and named by their book titles.
The lot has 8 pages. Text is in the German language. Not all pages are shown. Those shown have woodcuts.
The condition is generally Very Good for their age.. The map of the Rhone Valley in Wallis and
the view of Sitten are in almost excellent condition considering how old they are..
There are some minor traces of age and use on some of the text pages.

Lot price is $ 1750.00 (Please look for discount at top of this page. Here 30% = $ 1225.00
Order Nr. SWITZERLAND MAP254518