Familiar and Exotic Birds
by François Nicolas Martinet
Born 1731 in Paris. His death date is unknown (to us).
In his monumental "Histoire de les Oiseaux", Paris, 1778, Martinet published literally the entire world of birds on 483 most decorative copper plates. Their original authentic hand-coloring is simply superb. And the one hundred and some plates we were able to buy are of the finest condition
Page Size: Ca. 32 x 23. 5 cm ( 12.6 x 9.3 ")
View Game Birds by Martinet
View Birds of Prey by Marinet
View Owls by Martinet
Sale! Discount!
50% Discount on All Prints with a MARTINET number on this page!
Take 50% off the listed price. !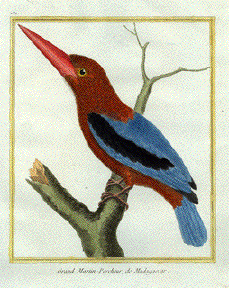 Grand - Martin - Pescheur, de Madagascar
Page size: 31.5 x 20.8 cm ( 12.4 x 8.1 ")
$ 280.00
Order Nr. MARTINET 7702SOLD
---
Pie-Griêche grise,
de Cayenne

$ 180.00

Order Nr. MARINET 7304

Pie-Griêche tachetée,
de Cayenne

$ 180.00

Order Nr. MARINET 7377
---
1. Pie-Griêche du Cap de bonne Esperance
Pie-Griêche rousse du Sénégal

$ 200.00

Order Nr. MARINET 7477

1. Pie-Griêche grise, du Sénégal.
2. Pie-Griêche rayée, de Cayenne.

$ 200.00

Order Nr. MARINET 7297
---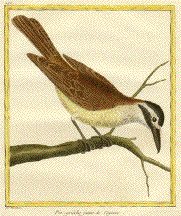 Pie-griêche jaune de Cayenne
$ 170.00
Order Nr. MARINET7296
---
View Game Birds by Martinet
View Birds of Prey by Marinet
View Owls by Martinet
© Rainer Rauhut
---