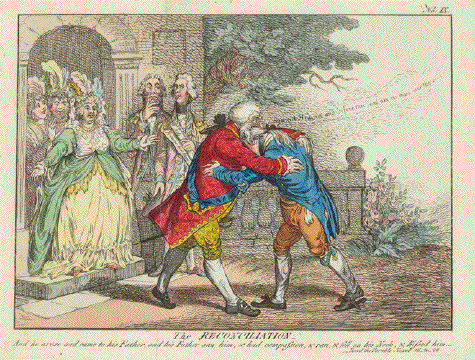 "The Reconciliation - And he arose and came to his Father, and his Father saw him & had compassion & ran & fell on his Neck & kissed him"
Parabel of the prodigal son (Parabel des Verlorenen Sohnes) Lukas Eavangelium
Type of print: Copper etching
Color: Very fine original hand coloring
Artist: Anonymos
Time of print: Ca. 1710
Condition: Beautiful original hand coloring. Two vertical folds to fit small book size.
In general: Very Good!
15,7 x 21,5 cm (ca. 6.2 x 8.5")
Order Nr. ENGLAND243669SOLD
Published as a political parable on the New Union Act of 1706 - reuniting by this act the Kingdom of England with the Kingdom of Scotland, creating thus "Great Britain". On the ribbon a doubtful parliamentarian is stated: Britains best Hope! On the step in background: Queen Anne of England, just becoming Queen of Great Britain joyfully spreading her arms to welcome lost Son Scotland.
The biblical parable told by evangelist Luke, tells the story of the two sons. The younger squanders his heritage, while the older stays home solidly. When the destitute and impoverished brother returns home and their father takes him joyfully to his chest, glad to see him back, the virtuous brother grumbles, expecting his father to chide the prodigal son. But the father celebrates his son's return with a feast.