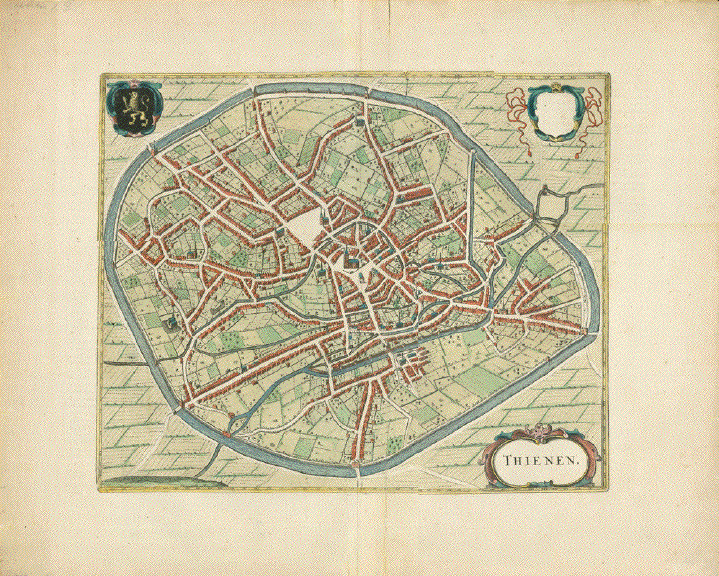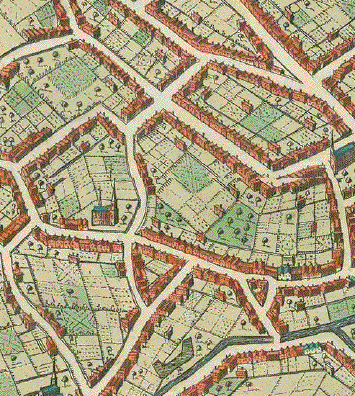 Tienen, Brabant (Belgium). - "Thienen"
Bird's Eye view of Tienen, South-Belgian City in Brabant,
Reverse side: Description in Latin
Copper etching with original hand coloring.
Published in "Staedtebuch" by Johannes Janssonius (1588-1664)
Amsterdam, 1657
Janssonius had bought the copper plates for printing from the heir of "Civitates Orbis Terrarum" and only changed them by omitting or using different human figures on them and by engraving new cartouches. Otherwise the prints look as if published by Braun and hogenberg.
Centerfold has been supported. There is a parallel fold next to centerfold. Very wide margins. Margin edges with repaired tears. Margin edges soiled. General natural age toning.
Pleasant original hand coloring. The very wide margins (see measurements below) allow, in case of framing, ample margin trimming.
Map: 33,5 x 41,6 cm (ca. 13.2 x 16.4")
Sheet: 47 x 58 cm (ca.18.5 x 22.8"
$ 250.00
Order Nr. BELGIUM254361