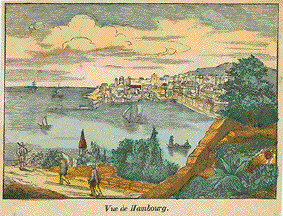 COLLECTOR'S ITEM - CURIOSITY
Dubrovnik. TITLED: "Vue de Hambourg"
View of the Croation city of Dubrovnik titled as Hamburg, Germany.
Titles were confused in the workshop. When the artist was done with a view, the plate, or, in this case, the lithographic stone went to an apprentice, who titled the picture. Obviously Hamburg was confused with Dubrovnik, and so we have this odd combination: Dubrovnik, Croatia titled as Hamburg, Germany.
Anonymous line lithograph. Beautiful original hand coloring. Ca. 1850
Good condition. Narrow margins.
10,5 x 13,5 cm including title (ca. 4.1 x 5.3")
$ 180.00
Order Nr. CROATIA247585