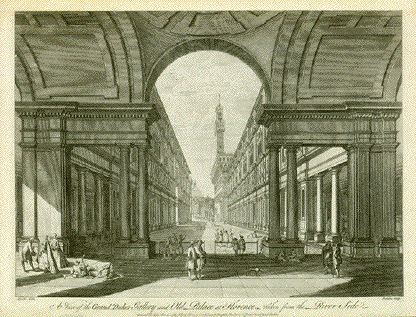 "Florence. - "A View of the Grand Duke's Gallery and Old Palace at Florence Taken from the River Side"
Copper etching by Thomas Bowles (1689-1767)
After the drawing by Guiseppe Zocchi (1711-1717)
Published by John Bowles (1701-1779)
London, ca. 1760
View of the "Uffici", one of the most famous museums in the world. We are looking, River Arno in back of us, towards the Palazzo Vecchio and into the Piazza degli Uffici. Built from 1560 to ca. 1580. Actually built to house Florence government offices (that's where the name "Uffici" derives from) the Galleria was used soon as museum for exhibits of the Antique to Baroque time period.
Print with very good impression. Top margin widened.
Image: 26,8 x 36,7 cm (ca. 10.5 x 14.5")
Order Nr. FIRENZE252985SOLD