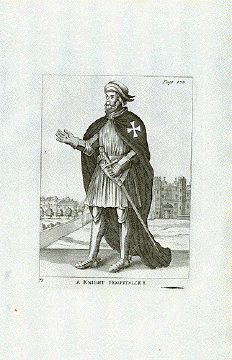 A Knight Hospitaler
Copper engraving from "Monasticon Anglicanum, or the History of the Ancient Abbies, Monasteries, Hospitals, ..." by Sir William Dugdale,
Published in London, Harbin for Browne & Smith, 1718 A.D.
Very good condition. Strong print. Minimal stains.
Page size: 34.4 x 20.6 cm ( 13.5 x 8.1 ")
Image size:: 17.5 x 12.8 cm ( 6.8 x 5 ")
$ 125.00
Order Nr. MALTA236138
Knight Hospitaller
"The Knights Hospitallers" or also Order of Hospitallers" was an order of men who were affiliated with a hospital in Jerusalem about 1020 AD. Two Orders of Chivalry evolved from them: "Order of St. John" (now named Sovereign Military Order of Malta" and "Johanniterorden") and the Order of St. Lazarus.
Their original idea for congregating was to care for sick or wounded pilgrims to Jerusalemand the Holy Land. Hospitallers were a religious as well as military order which operated from the Island of Rhodes after the Islamic conquest of the Holy Land and later from Malta. After Napoleon's capture of Malta the order became weakened throughout Europe but regained strength.
There are now also four Protestant branches of this order who all have their roots in the "Roman Catholic Sovereign Military Order of Malta" . They are headquartered in Berlin, The Hague, Stockhom and London. (summarized from a Wikipedia article)