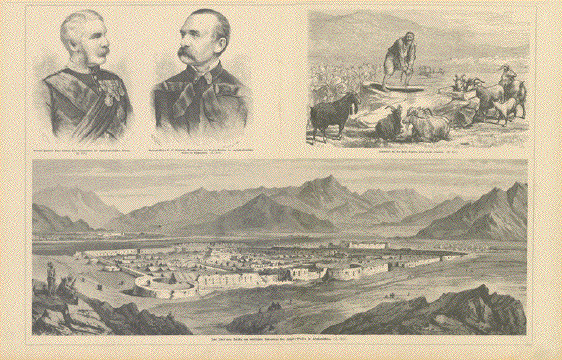 Upper left: " General Frederik Paul Haines, Ober-Kommandant der englisch.ostindischen Armee"
"General-Major A. S. Widdulph, Kommandant der Quetta Division der
englisch-ostindischen Armee in Afghanistan"
Upper right: "Ziegenhirt auf der Insel Cypern, seine Herde traenkend"
Lower image: "Das Fort von Dakka am westlichen Ausgange des Kyber-Passes in Afghanistan"
(Dacca is now the capital of Bangladesch)
Wood engravings published 1879. On the reverse side is unrelated text
and an article about the English-Afghanistan War. The centerfold has been repaired.
Overall light natural age toning.
Images:32 x 48 cm ( 12.5 x 18.8")
: $ 80.00
Order Nr. AFGHANISTAN255015