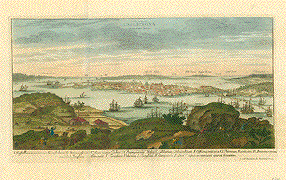 Karlskrona toward the north. ăUrbs et Portus Carlscrona septentrinem versus"
Copper etching by Johannes van den Aveelen. Dated 1709. Very fine original hand coloring.
Splended general view of the important Swedish city of Karlskrona.
Aveelen was called from Holland to Sweden in the year 1698 to help accomplish as an artist and as an engraver the magnificent artwork ăSuecia antiqua et hodierna", a masterwork of Swedish veduta, published in 1716. He contributed some 160 engravings to this work of a total of 353 engravings. This major work was initiated by Count Erik Dahlberg.
There is hardly a trace of age and use. Two vertical folds to fit original book size.
20.5 x 40.8 cm (8.1 x 16.1")
$ 380.00
Order Nr. SWEDEN3858