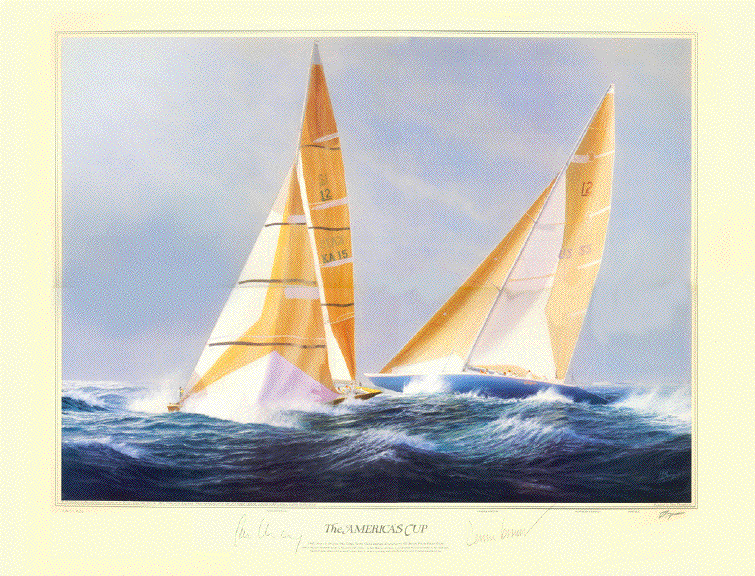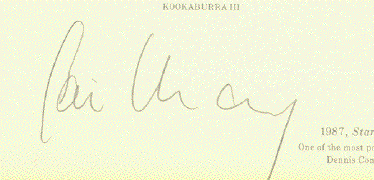 "The America's Cup" 1987
Stars & Stripes (San Diego Yacht Club) Dennis Conner defeats Kookaburra III (Royal Perth Yacht Club) Ian Murray
Printed text reading:
"One of the most powerful moves in the entire 1987 series - as Ian Murray attempts to slam-dunk Kookaburra early in the third race. Dennis Conner spins over his wheel to take Stars & Stripes steaming under Kookaburra's stern to break through her lee".
Original Lithograph after the painting by talented and well-known Marine Artist Tim Thompson. Printed in color.
Numbered with pencil 297 / 850
Publisher's text: Published by Ranulf Rayner Ashcombe Tower, Dawlish, Devon. 1987. Printed in England. This reproduction is one of the single edition, limited to 850 copies, signed by the artist.
This means, that a total of 850 prints were printed. This one being no. 297
We have three original autographs in pencil in lower margin:
The original signatures of the artist: Tim Thompson
Ian Murray (Skipper Kookaburra III) - Defender
Dennis Conner (Skipper Stars & Stripes) - Challenger
Minimal traces of age along margin edges.
52 x 70 cm (ca. 20 x 27.5")
$ 1200.00
Order Nr. SAILING253328