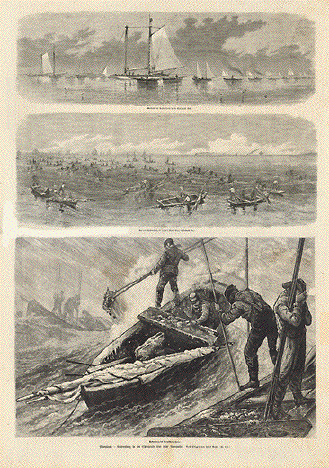 "Maryland. - Austernfang in der Chesapeake Bai nahe Annapolis"
Catching oysters in Chesepeake Bay near Annapololis.
"Ausfahrt der Austernfangbote in die Chesapeake Bai"
Oyster catching boats leaving for Chesapeake Bay.
"Auf dem Austernfang by Tally's Point Reef" -Near Tally's Point
Catching oysters in a storm
Three wood engravings on one page
Centerfold binding holes have been closed. Light general age toning. Minimal traces of age and use.
Measurements over all three prints:
50 x 35,3 cm (ca. 19.7 x 13.9")
$ 120.00
Order Nr.SHELLFISH246978