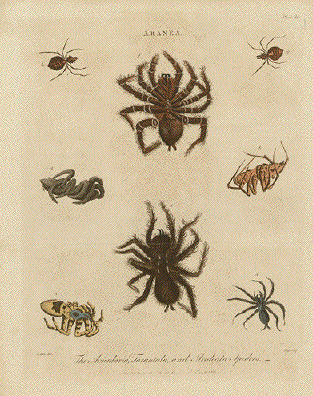 "Aranea - The Avicularia, Tarantula, and Aculeata Spiders"
Altkolorierte Kupferradierung by John Pass.
Nach der Zeichnung von Johann Eberhard Ihre (1727-1814)
Publiziert in "Encyclepaedia Londoniensis"
Von John Wilkes.
London, datiert 1795
Leichte generelle Altersbräunung. Adresse etwas schwächlich gedruckt
Spiders as named above.
Copper etching by John Pass after drawing by Johann Eberhard Ihle with original hand coloring
Published in "Encyclopaedia Londoniensis" by John Wilkes.
London, dated 1795
Light general age toning. Address a bit weak in printing.
25 x 19,7 cm (ca. 9.8 x 7.8")
$ 95.00
Order Nr. SPIDER250820