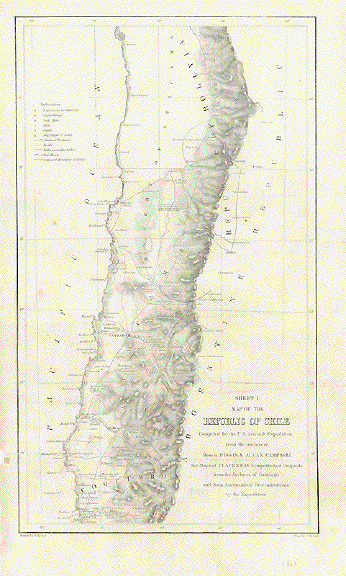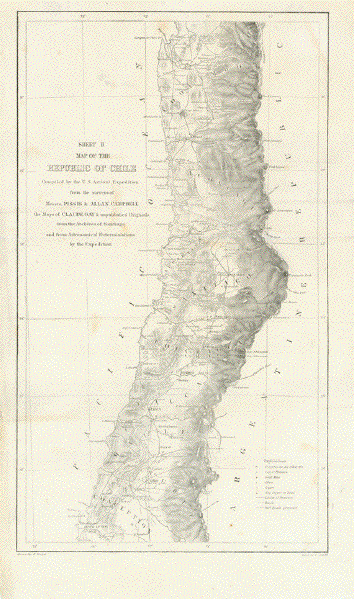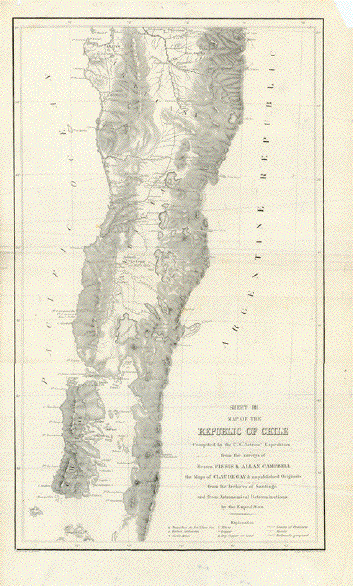 "Map of the Republic of Chile"
Compiled by the U.S. Astron(mica)l Expedition from the surveys of Messrs. Pissis & Allan Campbell, the Maps of Claude Gay & unpublished Originals from the Archives of Santiago and from Astronomical Determinations by the Expedition.
The here-named expediten to the Southern Hemisphere took place from 1849 to 1852. It was published in Washington D.C. in 1855.
The maps of Chile from latitude 24 to latitude 44 were published on three sheets.
Sheet 1 from "La Chimba" to ""Serena"
Sheet 2 from "Tongoy" to "Concepción"
Sheet 3 from north of "Arauco" to the archipelago "Islas Guaitecas".
Explanitory keys show: Copper, gold and silver resources and mines as well as provincial border lines, roads railroads
The maps were drawn by F. Herbst and engraved by Selmar Siebert.
All three sheets show, in their margins, traces of age and use, such as wrinkling, small missing pieces, repaired tears, none of them reaching into the maps themselves. They have pleasant light general age toning. All three sheets have horizontal folds to make them fit into the intended book size.
each map measures: Ca. 41,5 x 24,5 cm (ca. 16.3 x 9.6")
Price for the complete set of three maps: $ 375.00
Order Nr.SOUTHAMERICA242220