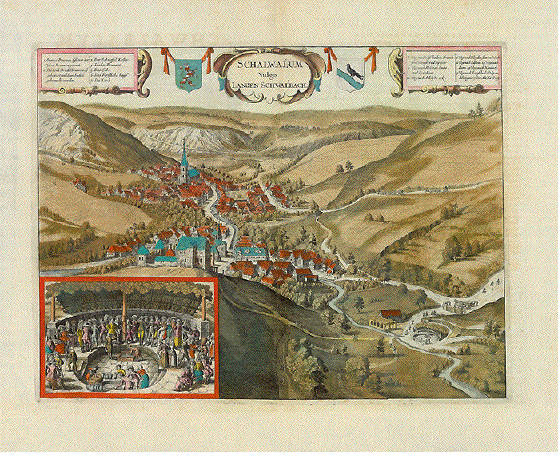 "Schalwalum vulgo Langen Schwalbach" ( Medicinal Spa in Hesse )
Type of print: Copper etching
Color: Very attractive original hand coloring
Publication: "Staetebuch" (Book of cities)
Author: Johann Janssonius after: Wenzel Hollar Published in: Amsterdam, ca. 1650
Condition: Light general age toning. Wide matgins. Attractive original hand cololing. One vertical tear very well restored, so that it is hardly visible. In general: Near Very Good.
Measurements: 51,5 x 61,5 cm (ca. 20.3 x 24.2")
Price: US$ 380.00
Bad Langenschwalbach in Hesse is seen from an elevated point (half bird's eye view). Lower left corner has inset of the "Sauerbrunnen" (acidoulus mineral water fountain) with a lively staffage of health-seeking people. Title cartouche, two coats of arms and two cartouches with explanatory text.
Order Nr. HESSE238436