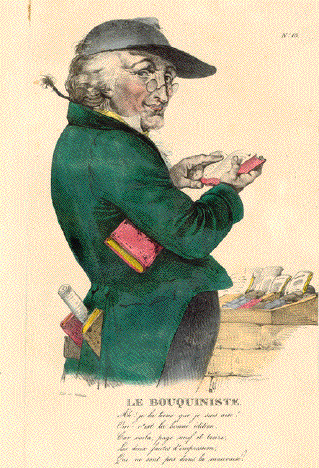 "Le Bouquiniste" Antique book seller
Lithograph by Francois Villain. Very fine and vivid original hand coloring. Paris, at Ostervald, ca.- 1830
One of those famed open-air book dealers, who were anywhere between morose and entertaining, from dull to intellectual and whose metal boxes used to open on the Rive Gauche bank of the Seine on misty to sunny days. The boxes contained veritable trouvailles and treasures still in the sixties of the last century. I used to stroll there frequently the few steps from my less than comfortable dwelling during my 18 months study séjour in Paris and got my used non academic and my academic books there.
The poem underneath reads:
LE BOUQUINISTE.
Ah ! je la tiens que je suis aise !
Oui c'est la bonne édition
Car voilà, page neuf et treize,
Les deux fautes d'impression
Qui ne sont pas dans la mauvaise.
There are some traces of age and use: A vertical fold along left edge outside image, Trimming all around without disturbing image. A general age toning. A small crease in upper left. Condition suits the subject matter. Not much to worry about unless you are a perfectionist.
Sheet size: 30,8 x 20,5 cm (ca. 12.2 x 8")
Order Nr. ARTSELLER/BUYER 241360SOLD