Antique Pigeon Prints ( Tauben, Colombe, Palomas) and Doves
Liquidation Sale! Discount!
At 82 years old I am selling my stock!
40% Discount on All Prints with a PIGEON number on this page!
Take 40% off the listed price.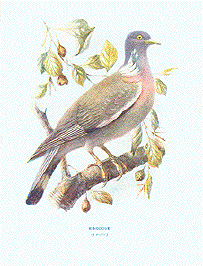 Ring Dove
Chromolithograph ca 1905. Two extra pages of text ( in English )
about the Ring Dove ( Columba palumbas )
Bird image with leaves: 12 x 9 cm ( 4.7 x 3.5 ")
$ 35.00
Order Nr. PIGEON250119
---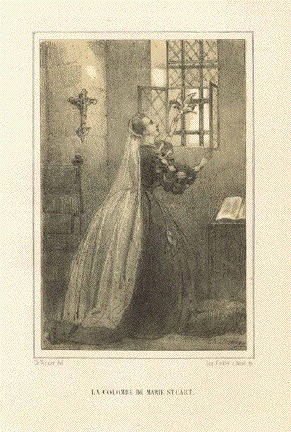 "La Colombe de Marie Stuart"
Toned lithograph after Ch. Vernier. Published 1884.
Light natural age toning.
Image. 13.5 x 9 cm ( 5.3 x 3.5 ")
$ 35.00
Order Nr. PIGEON252354
---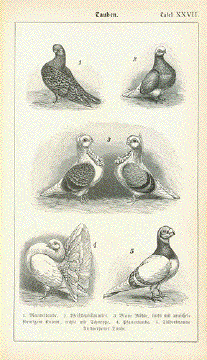 "Tauben" (Pigeons, Palomas)
**********
Reverse side: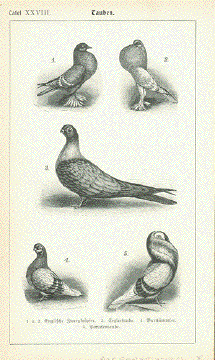 Separate page:
"Der Taubenschlag und seine Einrichtung"
( The pigeon hause and its features)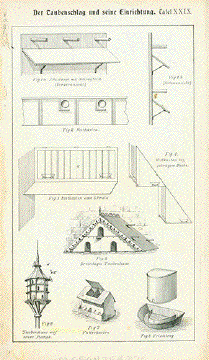 The upper page has vrious sorts of pigeons on both sides of the page
with the German names. The separate page shows the inside of a pigeon house.
The second page has glue spots in left margin.
Page size: 17 x 9 cm ( 6.6 x 3.5")
Price for the two pages; $ 35.00
Order Nr. PIGEON3253330
---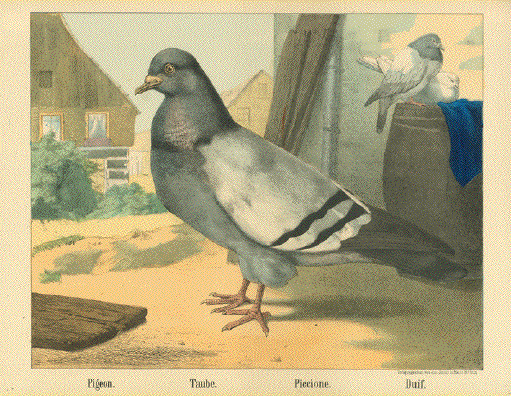 "Pigeon - Taube - Piccione - Duif"
Lithograph by R. Scholz. Printed in color by Joseph Scholz. Mainz, ca. 1880
A magnificent rendering of the common pigeon.
Light age toning. Excellent condition!
31.5 x 39.5 cm (12.4 x 15.5")
$ 140.00
Order Nr. PIGEON235055
Pigeon Prints by Pretre
Original color printing!
Prêtre belongs to the famed French artists in early 19th century who masterfully used color printing for flowers, plants, birds to illustrate the important botanical and zoological books of that time. Using a separate printing for each color they used, and lacking the technical precision necessary to "come down" on the exact line of the preceding printings, it was an endevour making the hair of publishers stand on end, because of costly time and waste of misused paper involved. But once a print was done, the outcome was superb as seen in these samples here!
Owls: Temminck, Coenraad Jacob and Laugier de Chartrouse: "Nouveau Recueil des Planches colorées d'Oiseaux..." Paris, 1820 - 1838
Pigeons: Temminck, Coenraad Jacob: "Histoire Naturelle Générale des Pigeons et des Gallinacés...". Amsterdam and Paris, 1813 - 1815
Images are on very large pages with wide margins.
Page size: 52.5 x 34 cm (20.6 x 13.3 ")
Size of birds from top of head to tip of tail: ca 16.5 - 25cm. (6.4 x 9.8 ").
Some prints have some very tiny spots mostly in margins.
Page number in upper right margin.
Prints are otherwise in very good condition unless otherwise mentioned.
Colombe phasianelle, male

Pigeon: 23.8cm ( 9.3 ")

$ 135.00

Order Nr. PIGEON6857

Colombe capistrate,male

Pigeon: 20.5 cm ( 8 ")

$ 135.00

Order Nr. PIGEON6858
---
Columbe longup, male

Small gray spot on right margin edge.

Pigeon: 21.5 cm (8.5 ")

$ 135.00

Order Nr. PIGEON 6859

Colombe marquetée

A few very minor spots around image.

Pigeon: 24.2 cm ( 9.6 ")

$ 135.00

Order Nr. PIGEON 6860
---
Colombe jaseuse, male

Tiny, repaired tear on right margin edge.

Pigeon 18.5 cm ( 7.2 ")

$ 135.00

Order Nr. PIGEON 6862

Colombe leucoméle

Some minor scattered spotting.

Pigeon: 22.5 cm ( 8.8 ")

$ 135.00

Order Nr. PIGEON 6861
---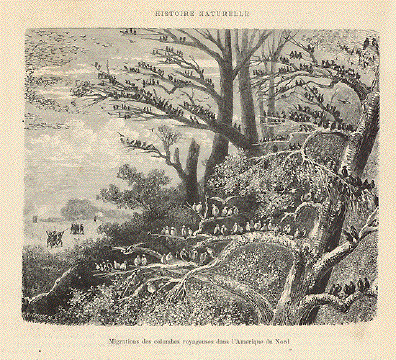 "Migrations des colombes voyageuses dans l' Amerique du Nord" (Pigeon migration)
Wood engraving printed 1874. Reverse side is printed.
13 x 15.5 cm ( 5.1 x 6.1 ")
$ 25.00
Order Nr. BIRDPIGEON240961
---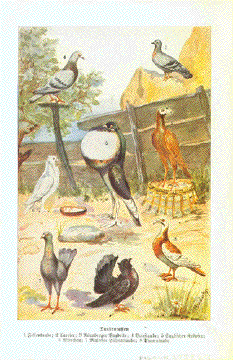 "Taubenrassen" ( pigeon breeds)
Chromolithograph ca 1900. Below the image are the names of the various
pigeon breeds in German"
Image: 17,5 x 11.5 cm ( 6.8 x 4.5")
$ 35.00
Order Nr. BIRDPIGEON253837
---