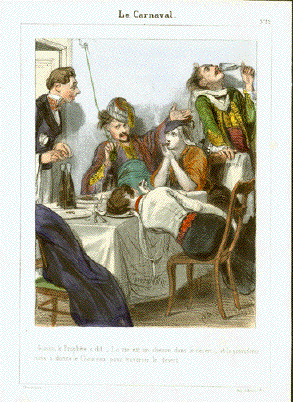 "Le Carneval"
Altkolorierte, einweissgehöhte Lithographie von Paul Gavarni (1804-1866)
Gagarin war der Künstlername von Hypolithe Sulpice Guillaume Chevalier.
Gagarin war ein Meister der Lithographie. Er nahm die Pariser Gesellschaft des 19. Jahrhundert gekonnt auf die Schippe.
Die Signatur und das Datum der Lithographie (1839) in Spiegelschrift.
Hier eine Scene am Ende einer langen Karneval-Nacht. Die Protagonisten hängen in den Seilen. Der Kellner erscheint, durch eine Zugklingel gerufen, in der Tür, stellt zwei neue Flaschen Wein auf den Tisch: "Garçon", lallt der Betrunkene, "der Prophet hat gesagt: Das Leben ist ein Weg durch die Wüste, und die Vorsehung hat uns das Kamel beschert, um die Wüste zu durchqueren". Mit "Kamel" meint er den zweiten Zechkumpan, auf den er deutet und wohl sagen will: Der da zahlt die Zeche.
Erstklassiger Erhaltungszustand. Hervorragend altkoloriert mit Eiweisshöhung. Rückseite unbedruckt.
Erschienen bei Aubert, Paris, 1839
*****
The aftermath of Caneval - a waiter puts two bottles of wine on the table and one of the group signals to
the fellow on the upper right to pay the bill.
Very fine originally colored with eggwhite highlighting lithograph by Paul Gavarni (1804-1866).
Publshed in 1839 by aubert in Paris.
Darstellung: 20 x 14,5 cm (ca. 7.9 x 5.7")
$ 140.00
Order Nr. CARNIVAL252078