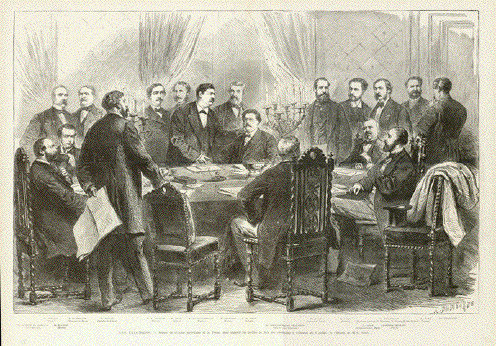 "Les Elections. - Seance de l'Union parisienne de la Presse, dans laquelle fut decidee la liste des candidats a l'election du 2 juillet"
Meeting of the Paris journalists with regard to the election of the "Assemblee Nationale" which took place on July 2, 1871
Wood engraving by A. Daudenarde after the drawing by G. Janet.
Published in Paris, 1871
Present and shown at the meeting from left:
Leopold de Gaillard (free correspondent)
Monsieur Francois (Droit)
Monsieur Rivalet (Le Monde)
Monsieur E. Rolland (Messager de Paris)
Monsieur Janicot (Gazette de France)
Monsieur E. Veuillot (Univers)
Monsieur Bapst (Debats)
Monsieur de Villemessant (Figaro)
Monsieur Neychens (Union)
Monsieur de Precy (Liberte)
Monsieur Taillandier de Villeneuve (Gazette des tribunaux)
Monsieur Rerve (Journal de Paris)
Monsieur Farbe (gaulois)
Monsieur Gibiat (Constitutionel, Pays)
Monsieur Paul Alloz (Moniteur universel - Paris Moniteur - Paris Presse - Monde Illustre)
Monsieur Laurieres Themines (Patrie)
Monsieur Jenty (France)
Wood engraving has a minor horizontal deficiency, a hardy visible line running across the print from left to right, which happened in the printing process. Otherwise good condition.
Ca. 31,5 x 48 cm (ca. 12.4 x 18.9")
$ 120.00
Order Nr. PARIS237319