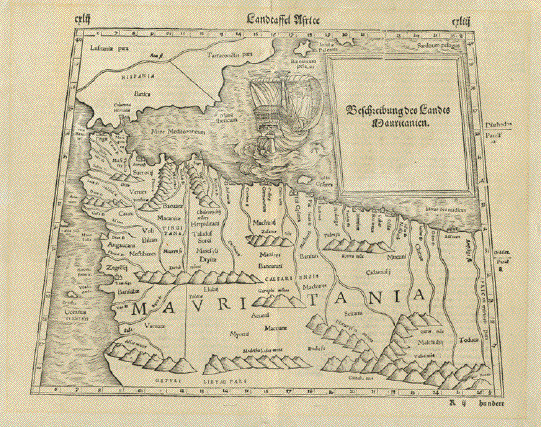 "Landtaffel Africe"
In inset cartouche: "Beschreibung des Landes Mauretanien" (Deskription of Mauritania)
Type print: Woodcut
Published in: "Roemische Historien" (Roman Histories)
Author: Polybius (ca. 200 BC - ca. 118 BC)
Translated by: Wilhelm Xylander (1532-1576) His name latinized from: Holtzman)
Published by: Sebastian Henricpetri (1546-1627)
Published in: Basel, 1574
Size of print: 25,5 x 28 / 33 cm (ca. 10 x 11 / 11.8") Trapezoid like most Ptolomean maps
Page size: 31 x 38,8 cm (ca. 12.2 x 15.3")
Reverse side has text print as described in German. Beautiful type setting!
Condition: Very good.
Rarity: Extremely rare!
$ 800.00
Order Nr. AFRICA239952
Map has little to do with the modern "Islamic Republic of Mauretania". It actually shows only the very northern part of this state. The title refers to ancient historic understanding of the "Maghreb" It really shows, by modern geography, Morocco, Algeria, Tunesia and the westernmost part of Libya. In outlines we see southern and eastern Spain up to the Balearics. Interesting in the extreme west off the Atlantic coast the map shows "Erythia" (Erytheia) one suspected island of the Canary Island group. Erytheia was the island where, according to Greek mythology, Hercules had the task to fetch the Golden Apples, which were supposed to be held hidden in the Hesperides' garden in the most western part of the then known world. Erytheia was one of the Hesperides.
The "Roman Histories" by Polybius were among the most important writings about Hellenistic history and the upcoming importance of the Roman Empire. Xylander, an all-round intellectual scholar, translated the book from the original Greek rather than reproducing the existing Latin translation. The entire work comprised originally 40 volumes, of which most are lost. The ones preserved contain maps of the Mediteranian countries: Greece, Macedonia, Turkey, Syria, Egypt, Mauretania, Italy and a few others. Polybius used the maps of Ptolomy.