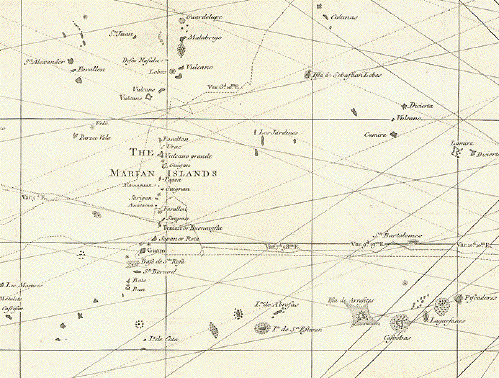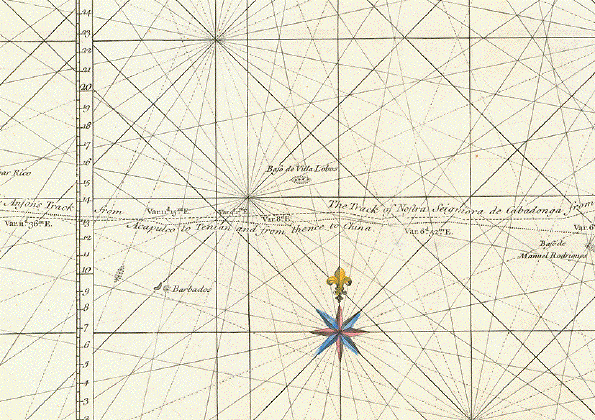 PACIFIC MAP
"A Chart of the Pacific Ocean from the Equinoctial to the Latitude of 39 1/2°N"
Map shows Pacific Ocean between California and parts of Mexico and Japan and the Philippines.
There are two southern voyage-routes:
"Commodore Anson's Track from Acapulco to Tenian and from thence to China"
"The Track of Nostra Seigniora de Cabadonga from Acapulco to Guam & from thence to the Philippine Islands where she was taken by Commodore Anson in the Centurion the 30th of June 1743"
The northern route:
"The Track of Nostra Seigniora de Cabadonga, the Spanish Galleon from Manila to Acapulco"
Type of print: Copper etching
Color: Some original outline hand coloring: Japan, Philippines, California, Mexico, wind rose
Engraver: Richard William Seale
Published: "A Voyage round the world in the years MDCCXLÉ"
by George Anson (1697-1762)
Publisher: John and Paul Knapton
Published: London, 1748
Condition. Very near flawless. Several vertical folds to fit book size are hardly visible.
27,5 x 88cm (ca. 10.8 x 34.6")
$ 750.00
Order Nr. PACIFICISLANDSMAP239200