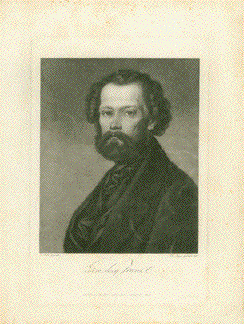 "Ludw. Aug. Frankl" Printed by way of a facsimile of Frankl's signature / Der Titel wie ein Facsimile von Frankls Signatur gedruckt
Ludwig August Ritter von Frankl-Hochwart (1810-1894)
Austrian Dr. of medicine, journalist, poet,
Österreichischer Arzt, Journalist, Dichter
Mezzotint by Christian Meyer (1812-1870)
After the painting by / Nach dem Gemaelde von Carl Rahl (1812-1865)
Single print sheet / Einblattdruck. Datiert 1856
Some minor traces of age and use mainly in wide margins. / Kaum bedeutende Alters- und Gebrauchsspuren in den breiten Margen.
Image:20,7 x 16,7 cm (ca. 8.1 x 6.6")
$ 95.00 (Discount: 40% = $ 57.00)
Order Nr. PORTRAIT256030