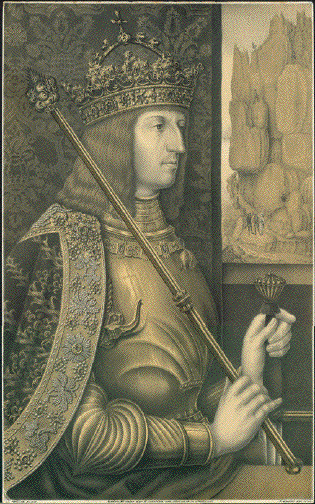 Emperor Maximilian I.
No title. Portrait of Emperor Maximilian I (1459-1519)
Roman-German Emperor from 1508-1519.
Lithograph after the painting by Johann Walch (1757-1815), who, in turn, used the painting
by Bernhard Strigel, who was a contemporary of Emperor Maximilian and portrayed him ca. 1507.
Walch's painting served as model for the drawing by Florentin Lauter. His drawing was the basis for the high quality lithograph, published in the monumental lithographic work by Johann Nepomuk Strixner (1782-1855).
When Strixner began to print lithographs after famous paintings in sepia tones in high quality in the year 1821, lithography was a young print medium. Alois Senefelder (1771-1834) had invented lithography only in 1796.
Very arrow margins. Very good condition. I the Strixner edition this lithograph was mountd on larger background paper. The mounting was done along the top of the back. The remnants are visible verso.
43,5 x 27,4 cm (ca. 17.1 x 10.8")
$ 220.00 (Please look for discount at top of this page)
Order Nr. PORTRAIT254185