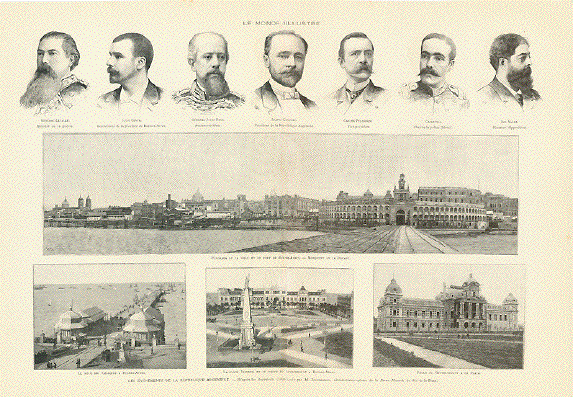 "Les evenements de la Republique Argentine"
The political happeneings in Argentina during the "Revolucion del Parque" also known as "Revolucion del 90", which means the year 1890.
We have a row of portaits across the top:
General Levalle Minister of War
Julio Costa, Governor of the Province of Buenos Aires
General Julio Argentino Roca, Former President
Juarez Celman, President of the Republic of Argentina
Carlos Pelligrini, Vice President of the Republic of Argentina
Enrique Capdevila, Chief of Police
Del Valle, Senator of the opposition
Below the portraits clear across the double page.
"Panorama de la Ville et du Port de Buenos Aires. - Monument de la Douane."
Below that:
"Le Mole des Passagers a Buenos Aires" -
"La Place Victoria et le Palais du Gouvernement a Buenos Aires" -
"Palais du Gouvernement a La Plata"
Type of print: Wood engraving
Published in a French periodical. Paris, 1890
Condition: Light general age toning. A little wrinkly in margins. Vertical centerfold.
General condition: Near Very Good.
Sheet size: 39 x 58 cm ( ca. 15,3 x 22.8")
$ 160.00
Order Nr. ARGENTINA239890