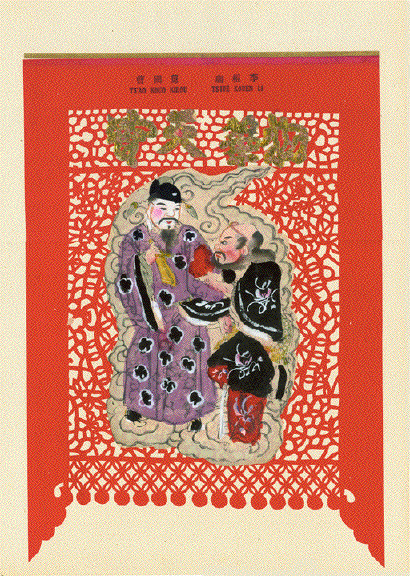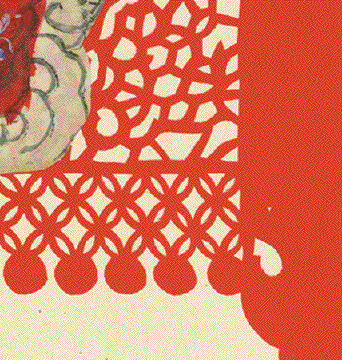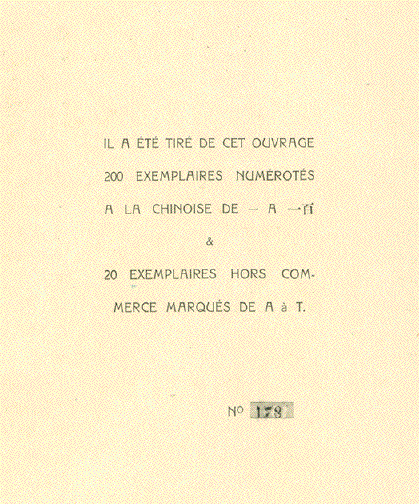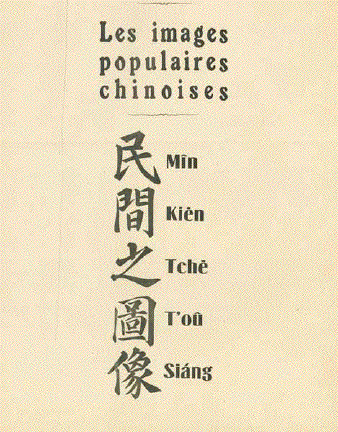 Illustration from "Les images populaires chinoises - Min - Kien - Tsche - T'ou - Siang"
by / von Albert Nachbaur and / und Wang Ngen Joung
This is a single page. The page is from a book that was published in Beijing in the French language.
It had a limited and numbered edition of 200. No second edition
Seite aus dem Buch, das 1926 in Peking in französischer Sprache erschien,
hatte eine limitierte, nummerierte Auflage von 200. Keine zweite Auflage.
Holzschnitt in Farbe gedruckt. Die Schrift oberhalb der Darstellung und innerhalb
der des durchbrochenen Netzwerkes in kräftigen, aufgetragenen Gold
Titel, beziehungsweise Namen der Dargestellten in schwarzer Schrift auf rotem Grund:
LAN TS'AI HEOU und LU TUNG PIN
Die Darstellung auf der OriginalSeite des Buches auf China-Papier montiert
Sehr guter Erhaltungszustand
Woodcut, printed in color. Chinese letters above image with the network of cutout paper in bold gilded Chinese letters
Title, i.e. the names of the depicted personalities in black print on red ground:
LAN TS'AI HEOU and LU TUNG PIN
The image mounted on the original China paper
Sehr guter Erhaltungszustand. Very good codition.
Abmessungen: / Measurements: The full page
51 x 35 cm (ca. 20 x 13.8")
This is one page.
Extra title page not included. Titleseite nicht verkaeuflich.
Order Nr. EXCLUSIVE250605
Link to EXCLUSIVE PAGE.