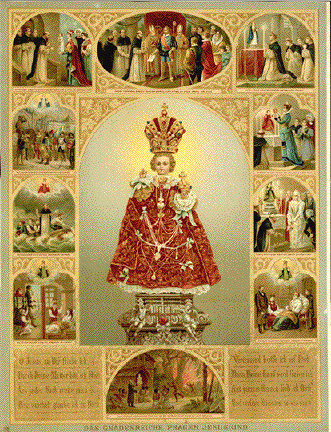 "Das gnadenreiche Prager Jesuskind" (The gracious child Jesus of Prague)
1 - Center: Jesus as a young boy. Clockwise from upper left:
2 - Princess Lobkowitz donates the statue of little Jesus to the Carmelite monks, Prague
3 - Emperor Ferdinand II donates the church "Maria vom Siege" to the Carmelites, Prague
4 - Father Cyrillus and young monks pray by the statue
5 - Baroness Kolowrat donates the Golden Crown to he boy statue of Jesus
6 - Empress Maria Theresia donates a green garment to the boy statue of Jesus
7 - The little Jesus heals lip cancer of a man in Oudenaarde
8 - The little Jesus saves a mission in Africa from being destroyed by fire
9 - The little Jesus heals two patines as prayed for by the patients' relatives
10 -The little Jesus saves Father Ildephons from shipwreck
11 - The little Jesus induces the Swedes to withdraw from Prague
All captions translated from the German. There is a prayer left and right of image 8, also in the German language.
Glossy chromo lithograph. All embellishments in gold print.
Published by E.G. May. Frankfurt on the Main, ca. 1860/70.
Some minor traces of age and use. Actually very good condition.
42 x 32,5 cm (ca. 16.5 x 12.8")
$ 280.00
Order Nr. CZECH251888