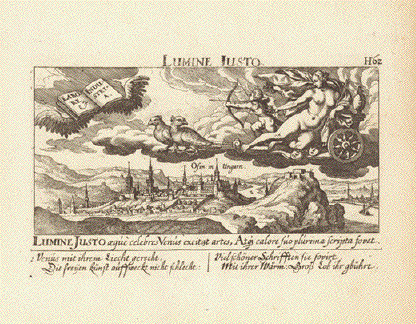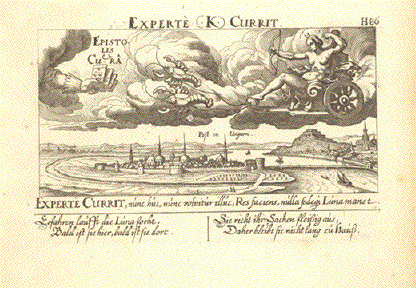 Budapest. - "Ofen in Ungarn" - "Pest in Ungarn"
PAIR of copper etchings in an emblematic style of both sides of Budapest, the beautiful Hungarian Capital.
"Ofen" is German for "Buda" meaning stove, oven. It is the part of Budapest on the
right side of the river Danube. Pest is located on the left side of the river Danuabe.
Often (Buda) has Venus riding with aiming Amor in her chariot, drawn by a pair of hawks
above the city. Pest has Luna in her chariot drawn by a pair of scorpions just having released her arrow, also above the city.
Below the images are lines of poems in Latin and the German translation.
Copper etchings . Published in "Thesaurus philopoliticus" also known as "Meisner's Schatzkästlein"
By Daniel Meisner (1585-1625).
Published in Frankfurt on the Main, 1623-1631. Publication of this monumental
work (more than 800 views of cities and towns) continued after Meisner's death. Publisher was Eberhard Kieser.
Light general age toning, some faint spotting in margins. But general Better than Good condition.
******
Buda und Pest, die beiden Stadtteile der ungarischen Hauptstadt.
Kupferradierungen aus "Meißners Schatzkästlein" von Daniel Meisner (1585-1625).
Publiziert im Verlag von Eberhard Mieser. Frankfurt am Main, 1623-1631.
Die Herausgabe des Werkes in 126 Bänden mit über 800 Kupferstichen wurde nach Meißners Tod fortgesetzt.
Ofen (Buda) mit Venus im Wagen, gezogen von einem Paar von Habichten,
Pest mit Luna in ihrem Wagen, gezogen von zwei Skorpionen. Mit lateinischen und deutsche Versen.
Leichte generelle Altersbräunung und leichten Flecken in den Margen. Besser als guter Erhaltungszustand.
Both copper etchings equal in size / Beide Kupferradierungen von gleicher Grösse:
Image: 9 x 14,3 cm (ca. 3.5 x 5.6")
Price for the pair / Preis für das Paar $ 320.00 minus 40% discount(see above) = $192.00
Order Nr. HUNGARY0623