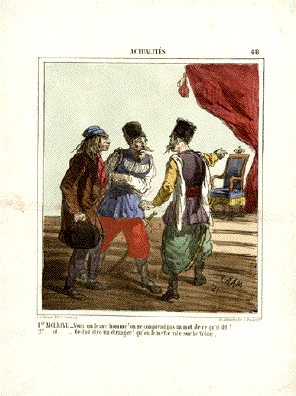 "1er Moldave - Voici un brave homme! on ne comprend pas un mot de ce qu'il dit!
2e - Ce doit etreun étranger! qu'on le mette vite sur le throne!"
1. Moldauer: Look, A good man does not understand a word of what he says.
2. Moldauer: That must be a foreigner! Let us put him quickly on the throne.
A parady on the changing history of the Prncipality of Moldavia during the period of foreign rule.
Original colored lithograph by Cham (pseudonym of Amedee-Charles-Henry de Noe (1818-1879)
Publihed in "La Caricature" Paris, 1866.
Some signs of age and use in margins. Image in good condition except for a very light
crease on left side.. Reverse side is not printed.
Image; 21,6 x 18,4 cm (ca. 8.5 x 7.2")
Page size: 35,3 x 26,5 cm (ca. 13.9 x 10.4")"
$ 110.00
Order Nr. HUMORCARICATURE250443