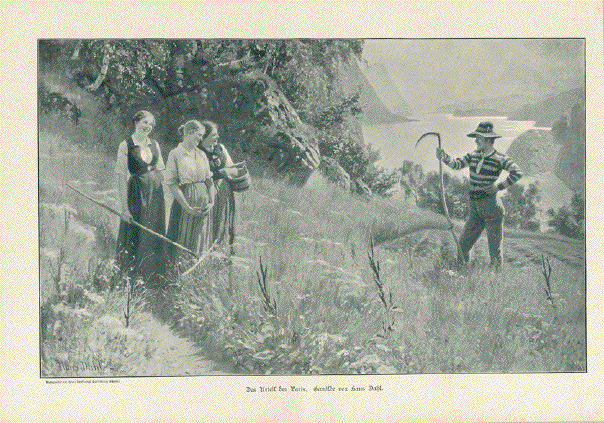 "Das Urteil des Paris"
Zincograph made after a painting by Hans Dahl (1939-1937-Norwegian). Published 1894.
Please read the story of the "Judgement of Paris" for the above print.
Many variations of this mythological story have been created and painted.
This print shows a young farmer admiring the three girls with the background of
a Norwegian Fjord.
Vertical centerfold.
Image: 23.5 x 38 cm ( 9.2 x 14.9")
$ 60.00
Order Nr. MYTHOLOGY255088
The Greek mythological story of a "beauty contest" was often related by Greek and Roman authors. Homer, Over, Apollodorus and others told it. And artists have rendered their version of this judgement over the centuries.
The story briefly: Zeus held a banquet but did not invite Eris, the goddess of discord. Angered by this snub, she nevertheless showed up and tossed a golden apple into the celebration with the inscription: For the most beautiful! The fight was on, because goddesses Hera, Aphrodite and Athena all claimed the apple. The goddesses thought to be the most beautiful were Hera, Athena, and Aphrodite, and each one claimed the apple. They started a quarrel so they asked Zeus to choose one of them. Knowing that choosing any of them would bring him the hatred of the other two, Zeus did not want to take part in the decision. He thus appointed Paris to select the most beautiful. Escorted by Hermes, the three goddesses approached Paris as he herded his cattle on Mount Garagarus. They immediately attempted to bribe him to choose among them - Hera offered ownership of all of Europe and Asia; Athena offered skill in battle, wisdom and the abilities of the greatest
warriors; and Aphrodite offered the love of the most beautiful woman on Earth, Helena of Sparta. As if further convincing arguments were needed, Aphrodite then let her robe fall, exposing her nudity. Paris chose Aphrodite&emdash;and Helena.
But Helena was already married to King Menelaus of Sparta, so Paris had to raid Menelaus's house to steal Helena from him. (According to some accounts, she fell in love with Paris and left willingly.) The Greeks' expedition to retrieve Helena from Paris in Troy is the mythological basis of the Trojan War. This triggered the war because Helena was famous for her beauty throughout classical Greece.
We see Paris as herdsman holding the golden apple in his lap, while watching the three goddesses trying to persuade him in their favor. Mercury is watching out of hidingwhile Eros (Cupid) shoots his inescapable arrow at Paris.