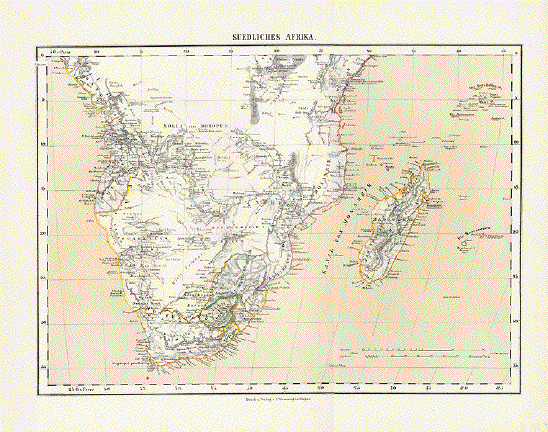 "Südliches Afrika" South Africa
Republic of South Africa, Lesotho, Swaziland, Namibia, Botswana, Zimbabwe, Mozambique, Angola, Zambia Malawi, Democratic Republic of Congo, Tanzania. Madagascar, Mascarene Archipelago, Seychelle Islands.
These would be the countries as they are bordered nowadays. Map naturally shows the borders of 1872.
Toned lithograph with original borderline hand-coloring.
Published in Sohr-Berghaus-Atlas.
Printed by C. Flemming. Glogau, Germany, 1872
Wide margins. Only minimal traces of age and use.
29,5 x 40,5 cm (ca. 11.6 x 15.9")
$ 220.00
Order Nr. AFRICAMAP240480