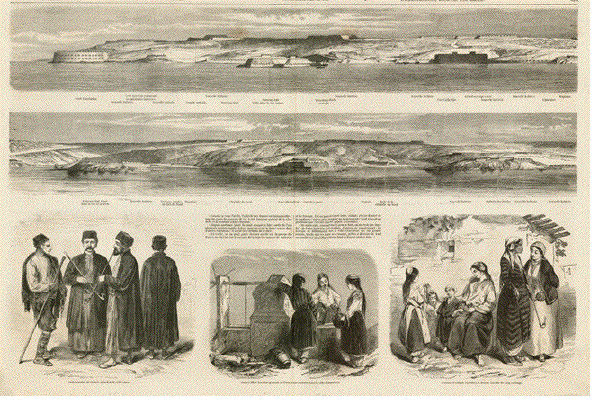 "Juifs karaites de Crimee et habitant cultivateur"
" Jeunes filles karaites puisant de l'eau a une fiontaine dans la ville d'Eupatoria"
"Femme et enfants karaites, et femme karaite de sang mélange"
Various people of Karaite Judaism, then living in Eupatoria (Jewpatorija) on the Crimea. Karaite Judaism or Karaism (Yahadut Qara'it). Their Jewish beliefs are characterized by exclusively recognizing the Tanakh as the supreme authority in Halakha. They do not accept as binding the written Midrash or Talmud.
We see here depicted menbers of Karaite Judaism on the Crimea. There were also large groups of Karaites living in Russia and Turkey.
The upper part of this large print is unrelated to the described, except that it shows the new defense buildings of Sebastopol (a Cremean city) during the war between Russia and Turkey (The Russian Empire and the Ottoman Empire) from 1853 to 1856, in which groups of France, Great Britain and Sardinia were siding with the Ottomans against Russia. The text above the middle picture belongs to the article about Sebastopol on the reverse side.
Wood engraving by V. Touldouier. Published in Paris, 1855.
Only very light general age toning. Almost very good condition. Vertical centerfold.
Overall size: 33 x 48,5 cm (ca. 13 x 19")
Joint measurement of the three lower engravings: 13 x 48,5 cm (ca. 5.1 x 19")
$ 120.00
Order Nr. JUDAICA247197