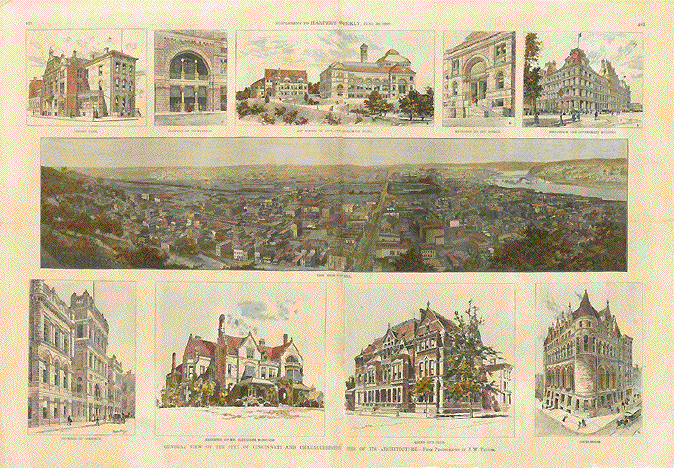 "General View of the City of Cincinnati and characteristic types of its Architecture"
Finely handd-colored wood engraving after the photograph of J.W. Taylor (1846-1918)
In the center: a general view from the hill.
Above from left: Lincoln Club - Doorway of court house - Art School on left, Art Museum on right - Entrance to Art Museum -
Posr-Office and Government Building
Below from left: Chamber of Commerce - Residence of Mr. Alexander McDonald -
Queen City Club - Court-House.
Reverse side: "The Queen City of the West".
Article about Cincinnati by William Willard Howard with 6 engravings:
The Tyler Davidson Fountain - Mr. Albert Netter's House - On the River Front -
View of the River from the Park - Bridge in the Park - Elsinore Entrance to the Park.
Published as Supplement to Harper's Weekly, New York City, dated 1888
There is very light general age toning, one restored tear in each margin far from image. Print has vertical center fold. Condition in general: Nearly Vey Good. Especially good is the attractive hand coloring
37 x 42,2 cm (ca. 14.5 x 16.5")
Order Nr. USAEAST246276 SOLD