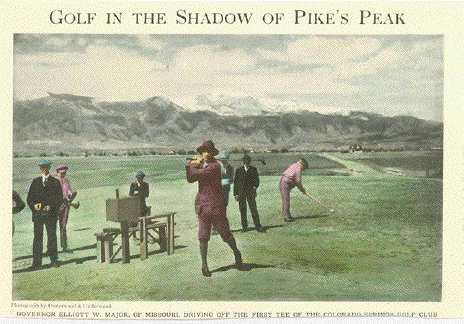 "Golf in the Shadow of Pike's Peak"
"Governor Elliot W. Major, of Missouri, driving off the first tee of the Colorado Springs Golf Club"
Color text photograph. Ca. 1918
Governor Elliot Woolfolk Major was serving one term as governor of Missouri from 1913 to 1917.
The Colorado Springs Golf Club opened (later became Broadmoor Golf Club) opened in 1918.
So there is a one year discrepancy: Either this took place in 1917 while Major was still governor or the Golf club opened in 1918 (as Wikipedia claims) and Major way not governor any more. Maybe someone in Colorado Springs knows the facts.
Undertitle partially cut, but legible. The publication this photograph came from is unknown (to us).
12,3 x 19,7 cm (ca. 4.8 x 7.8")
$ 70.00
Order Nr. USAMOUNTAIN254124