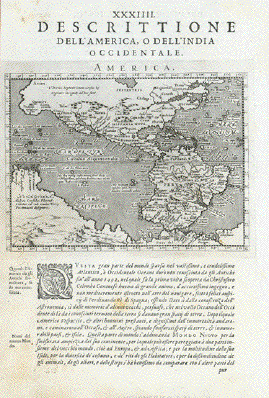 "Descrittione dell'America o dell'India occidentale" Plate XXXIIII (34)
Type of print: Copper etching
Artist: Girolamo Porro
After: Giovanni Lorenzo d'Anania
Published in: "Geografia cioe Descrittione Universale della Terra"
Publisher: Gio. Battista & Giorgio Galignani Fratelli
First published in: "Geographia" von Claudius Ptolemy
Edition: Italian edition
Editor: Giovanni Antonio Magini (1555-1617)
Text: Italian. Complete. 8 double pages with the following chapters:
The discovery of America
North America
Quivira ( a legendary area in North America, 1541 mentioned by Francisco Vazquez de Coronado
New Spain (Mexcio)
Nicaragua
Yucatan
Florida
Apalaches (Allegheny Mountains)
Norumbega (a legendary area in NE-USA)
New France (French territories in North America)
Labrador (Canada)
Estotilandia (Labrador, Greenland, Iceland)
Central America
Castella Aurea (Legendary area in Brazil where gold was found)
Peru
Chile
Brazil
Caribic Islands (2 articles)
Published in:Venice
Date:1598
Measurements:
Map size: Ca. 12,5 x 17 cm (ca. 4.9 x 6.7")
Page size: Ca. 28,5 x 19 cm (ca. 11.2 x 7.5")
Condition: Near perfect. Left margin narrow. Very minor traces of age.
$ 750.00
Order Nr. NORTHAMERICA236454