Erich Schilling, born 1885, was one of the talented illustrators "Simplicissimus" like Olaf Gulbransson, Th.Th. Heine, Karl Arnold, Eduard Thoeny, Max Slevogt, Käthe Kollwitz and many others He contributed many cartoons to this famous satirical German weekly. While he was successful as an artist his personality was ambivalent. Starting out in his younger years as a staunch opponent to Natinal Socialism in Germany he became an avid supporter of the Nazis as soon as Hitler came to power. With the political twist "Simplicissimus" was ordered to take after Machtergreifung (the famous dog lost his teeth), Schilling followed suit and produced propagandous cartoons, such as you can see one below. He comitted suicide in 1945 when he, much too late, realized that he had followed a criminal regime.
"Im Bierstueberl" Text by artist's hand: "Na, Kleiner, so schnell schon ausgerissen?" "Ja mei, allweil kannst a net sinnlich sein!"
This unpolitical early cartoon refers to "Fasching" in Munich, the Bavarian form of Carnival.
Ink on paper. Monogrammed upper left.
36 x 26 cm ( 14.1 x 10.2 ")
$ 550.00
Order Nr. ORIGINAL9715SOLD
*************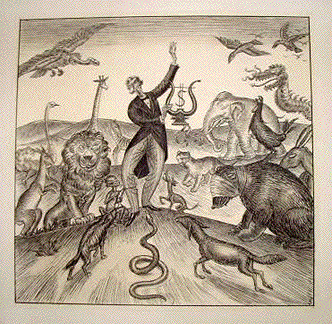 "Der neue Orpheus". Ink on cartboard by Erich Schilling. Monogrammed lower right. Title in pencil on reverse side. Flawless condition.
33.5 x 34.5 cm ( 13.1 x 13.5 ")
$ 550.00
Order Nr. ORIGINAL9716SOLD