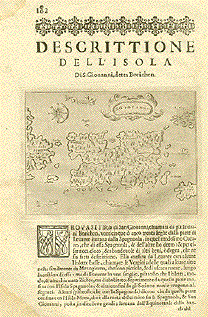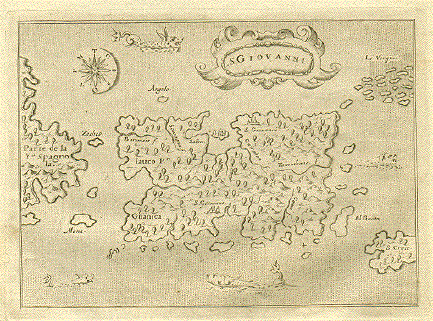 "Descrittione Del L'Isola Di S. Giouanni, detta Borichen". Copper etching from "L'Isole piu Famose del Mondo" (The most famous islands of the world by Thomas Porcacchi (1530 - 1585) and engraved by Girolamo Porro. The first edition of this work was published in Venice in 1572. This is from the second edition, 1620.
This is one of the oldes maps of Puerto Rico. Here it is named San Giouanni with the mention that the Indians called it Borichen. To the left is part of the Dominican Republic and in the lower right corner is part of St. Croix. The map is on a text page as shown with text on backside and a second page of text. The Italian text describes the early history and geography of Puerto Rico.
Page has water stains in upper and lower left margin corners. Repaired hole on left margin edge. Map image is clean. Some creasing in margins.
Map size: 10 x 14 cm ( 3.9 x 5.5 ")
$ 380.00
Order Nr. CARIBBEAN2159