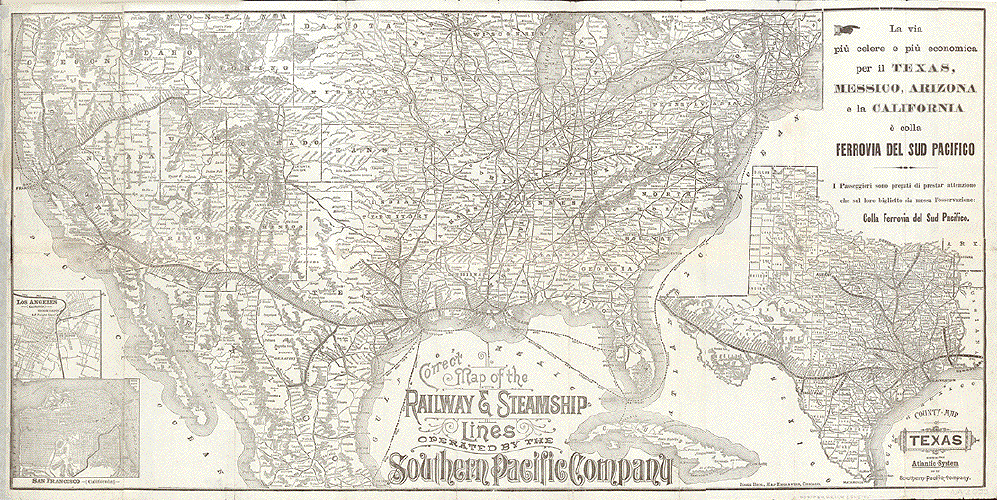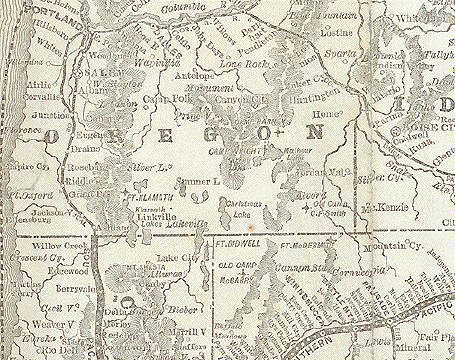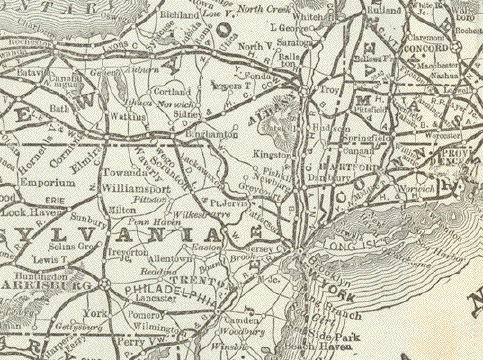 RAILROAD & STEAMSHIP LINES NORTH AMERICA
"Correct Map of the Railway & Steamship Lines operated by the Southern Pacific Company"
A historically important railway map of the United States of America south of the 45th parallel north from Portland, OR to the state of Maine.
The map extends south well into Mexico, shows the entire Gulf of Mexico including Cuba and the large Steamship lines along the Atlantic Coast and within the Gulf of Mexico operated by Southern Pacific.
With a large inset county map of Texas and 2 small inset maps of Los Angeles, CA and of San Francisco, CA.
In the upper left is the twon of Kalama, Washington.
The additional title in the Italian language reflects on the large numbers of Italian immigrants towards the end of the 19th century. (There was also an identical map issued with a German title for the largest non English speaking immigrant group).
Lithograph issued by Poole Brothers. Chicago, ca. 1885
This Railroad map shows the immense network of railroads, which had already been spun clear across the United States on behalf of the Southern Pacific Railroad Company. The map is extraordinarily detailed naming all stations along the various operated lines. Hatchings show mountain ranges.
This Railway map was part of an advertising brochure with time tables for departures and arrivals as well as all travel information necessary and desirable for especially the (Italian) traveler. It was issued by the Southern Pacific Company in cooperation with the printing outfit Pool Brothers in Chicago.
Condition: As part of the above described brochure the large map had to be folded several times vertically and horizontally. As the map was obviously used it was unfolded often. This left some traces of usage.
Some of the folds were in danger of braking. Therefore some folds were backed for support very carefully with thin paper. We show scans of the reverse side. In some of the crossings of folds small holes are covered under the backing paper. The margins are narrow all around. Some have small tears. And the left margin, where the mad had been fastened to the brochure, has been widened with thin paper. There are some other traces of age and use which we are zealous to document with scans. The condition in general is surprisingly good considering age, handling and the thin paper it was printed upon.
An interesting item with regard to railways in the USA.
39,5 x 79 cm (ca. 15.5 x 31")
$ 680.00
Order Nrt. NORTHAMERICA