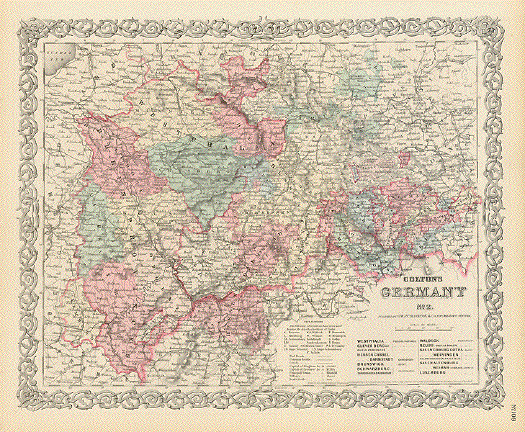 "Colton's Germany No. 2"
Type of print: Lithograph
Color: Original hand coloring
Publisher: George W. Colton
Published in: "Colton's Atlas of the World illustrating physical and political geography"
Published: New York, 1856
Map basically shows Central Germany. North: Westphalia, southern Lower Saxony. East: Saxonia. Soiuth: Franconia. West: To the borders of The Netherlands, Belgium, Luxembourg and the north-eastern corner of France.A decorative bordure frames this attractive map.
Condition: Light general age toning. Very attractive, bright colors. . Reverse side is printed.
32 x 39,5 cm (ca. 12.6 x 15.6")
$ 80.00
Order Nr. DEUTSCHLAND 239549